#100book challenge
Welcome to the 100 book challenge!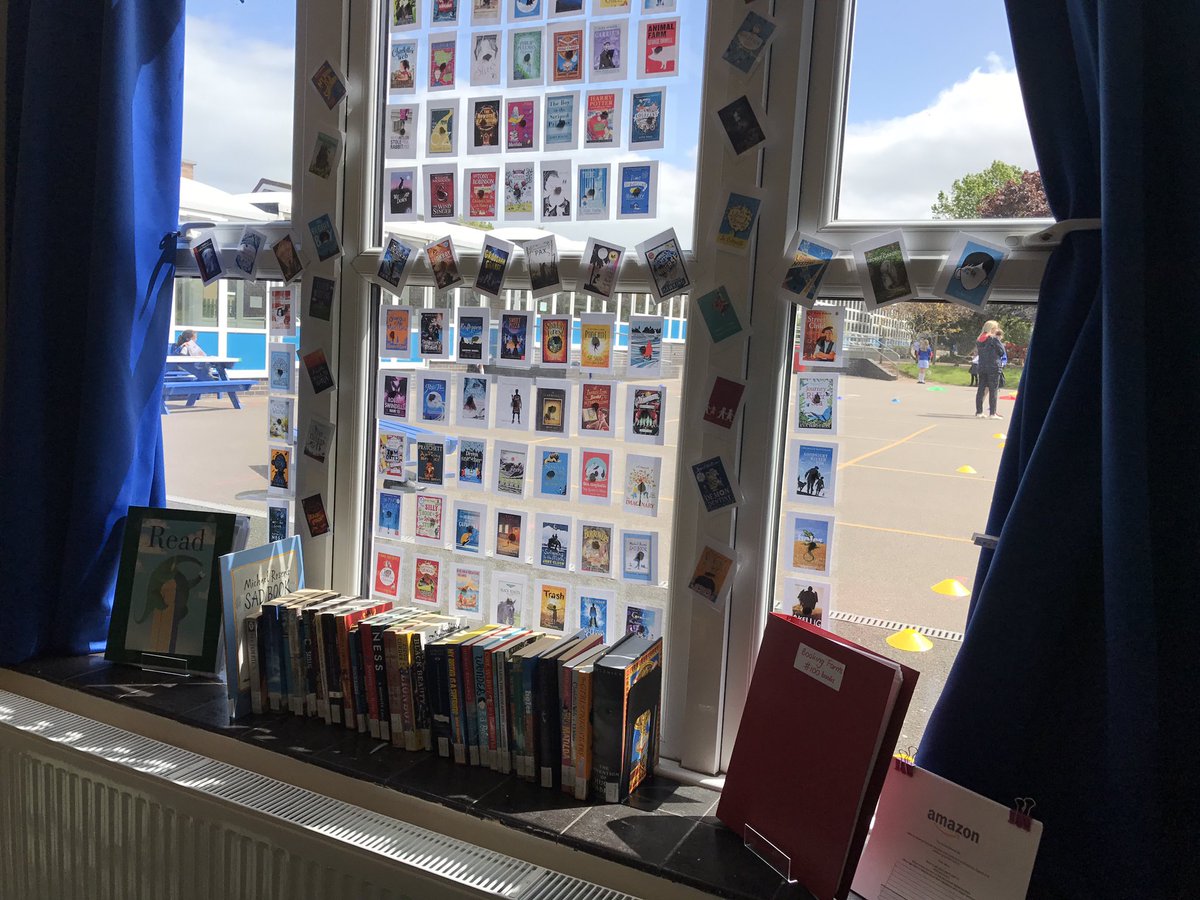 The #100book challenge began in 2017 as a project for classes to increase our reading for pleasure. Without noticing it, most of us were reading books by the same authors, and enjoying the same books that much younger children were. In order to challenge us and introduce us to new authors, Miss Reeves set up a 100 books for Y5/6 lending library. We still have access to it in our new Year 6 class, too!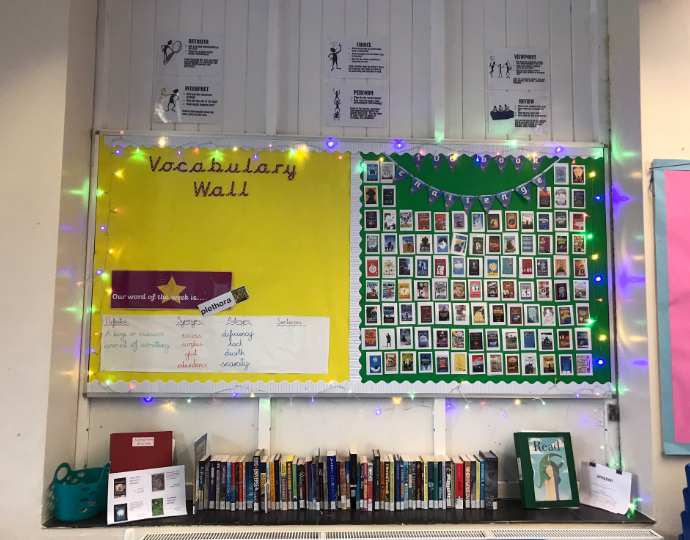 We are nearly at the point where we have all 100 books, curated in a list by a teacher called Ashley Booth, and all of us have at some point used the lending library, whether it is just in class or as a book to take home. This year, we will all be given a new formal reading diary, and Miss Reeves hopes that some of us elect to use books from the #100book list as our home readers - there are some real corkers in there! Our hope is to share some of our favourites on the website without you.
Please see below the full list of the 100 books. Those marked with a * are some of Miss Reeves' personal favourites. Challenge yourself to read one you've never even heard of!
Matilda
by Roald Dahl
Kensuke's Kingdom by Michael Morpurgo
The Crossover
by Kwame Alexander
Phoenix
by S F Said*
Charlotte's Web
by E B White
Alice's Adventures in Wonderland
by Lewis Carroll
The Lion, the Witch and the Wardrobe
by C S Lewis
Stig of the Dump
by Clive King
Artemis Fowl
by Eoin Colfer
Diary of a Wimpy Kid
by Jeff Kinney
Five Children and It
by E Nesbit
Beetle Boy
by M G Leonard*
Clockwork
by Phillip Pullman
The Secret Garden
by Frances Hodgson Burnett
Wonder
by R J Palacio
The Borrowers
by Mary Norton
The Fantastic Flying Books of Mr Morris Lessmore
by William Joyce
Skellig
by David Almond
A Series of Unfortunate Events
by Lemony Snickett
The Girl of Ink and Stars
by Kiran Millwood-Hargrave
Holes
by Louis Sachar
Demon Dentist
by David Walliams
Goodnight Mister Tom
by Michelle Magorian
Inside Out and Back Again
by Thannha Lai
The Suitcase Kid
by Jacqueline Wilson
The Boy in the Stiped Pyjamas
by John Boyne
Firegirl
by Tony Abbott
The Many Worlds of Albie Bright
by Christopher Edge
Percy Jackson and the Lightnin Thief
by Rick Riordan
Coraline
by Neil Gaiman
Journey to the River Sea
by Eva Ibbotson
Five on Treasure Island
by Enid Blyton
Time Travelling with a Hamster
by Ross Welford
Room 13
by Robert Swindells
A Monster Calls
by Patrick Ness
Millions
by Frank Cottrell-Boyce
Street Child
by Berlie Doherty
Cogheart
by Peter Bunzl*
Cloud Busting
by Malorie Blackman
Trash
by Andy Mulligan
Harry Potter and the Philosopher's Stone
by J K Rowling*
The Imaginary
by A F Harold
Once
by Morris Gleitzman
Groosham Grange
by Anthony Horowitz
The Indian in the Cupboard
by Lynn Reed Banks
The Nowhere Emporium
by Ross MacKenzie
Oranges in No Man's Land
by Elizabeth Laird
Rooftoppers
by Katherine Rundell*
George's Secret Key to the Universe
by Lucy and Stephen Hawking
Shadow Forest
by Matt Haig
The Diamond of Drury Lane
by Julia Golding
The London Eye Mystery
by Siobhan Dowd
The Silly Book of Side-Splitting Stuff
by Andy Seed
Animal Farm
by George Orwell
Flour Babies
by Anne Fine
The Worst Children's Jobs in History
by Sir Tony Robinson

The Amazing Maurice and his Educated Rodents
by Terry Pratchett

The Wolves of Willoughby Chase
by Joan Aitken
The Queen's Nose
by Dick King Smith
The Hobbit
By J R R Tolkein
Black Beauty
by Anna Sewell
The Demon Headmaster
by Gillian Cross*
Lion Boy
by Zizou Corder
The Wind in the Willows
by Kenneth Grahame
The Wind Singer
by William Nicholson
When Hitler Stole Pink Rabbit
by Judith Kerr*
How to Train Your Dragon
by Cressida Cowell
A Library of Lemons
by Jo Cotterill
The Bubble Boy
by Stewart Foster
Miss Peregrine's Home for Peculiar Children
by Ransom Riggs
The Boy Who Sailed the Ocean in an Armchair
by Lara Williamson
Pax
by Sara Pennypacker
My Brother is a Superhero
by David Solomons*
The Brilliant World of Tom Gates
by Liz Pichon
Black Powder
by Ally Sherrick
Sweet Pizza
by G R Gremin
Swallows and Amazons
by Arthur Ransome
Strange Star
by Emma Carroll
Sad Book
by Michael Rosen
The Arrival
by Shaun Tan
Ballet Shoes
by Noel Streatfeild
The Dreamsnatcher
by Abi Elphinstone*
Who Let the Gods Out?
by Maz Evans*
A Long Walk to Water
by Linda Sue Park

Watership Down
by Richard Adams

Swimming to the Moon
by Jane Elson

Carrie's War
by Nina Bawden
Peter Pan
by J M Barrie
The Diary of a Young Girl
by Anne Frank*
Winter Magic
by Various Authors
What to do When You Worry Too Much
by Dawn Heubner
The Secret of Nightingale Wood
by Lucy Strange*
The Invention of Hugo Cabret
by Brian Selznik
There May be a Castle
by Piers Torday
Skullduggery Pleasant
by Derek Landy
Howl's Moving Castle
by Diana Wynn Jones
101 Poems for Children
by Carol Ann Duffy
The Goldfish Boy
by Lisa Thompson*
The Miraculous Journey of Edward Tulane
by Kate Di Camillo
The Wonderful Wizard of Oz
by Frank L. Baum