6DW
Autumn 1 - update:
As the October half term approaches it is a good time to look back and consider all that 6DW have achieved during Autumn 1.
Maths: As role models for the school, they have set the example when developing learning conversations and peer mentoring within maths lessons, where the pupils support the learning of others through discussion and mentoring strategies. The sense of achievement when awarded the 'Mentor' or 'Mentee' of the week is fantastic to see and shows what a brilliant group of learners we have in Year 6.
Within English, the pupils have responded well to their study of Private Peaceful. Through reading, we have travelled with Tommo and Charlie through WW1 and witnessed the impact on the soldiers and their loved ones. Pupils wrote narratives, descriptions, persuasive speeches - to encourage the young men to sign up - and finished with making the staff cry with their emotive pieces of writing based on the final scenes - look away now if you don't want to know the 'score'. When the children found out that Charlie was to be shot at 6:00am - you could hear a pin drop (and that is unusual for 6DW) - they then used their emotions to write a letter from one brother to another with their final words - and WOW is all I can say from behind my tissues!
Topic: We have continued with the WW1 theme in our topic lessons and have looked at life in the trenches, identifying ways to survive and investigating a variety of sources to understand what the conditions were like at that time. Pupils have responded well, when investigating both primary and secondary sources and analysed artwork, diary entries and photographs - questioning their reliability. Next stop WW2!
Science: In Science, we have been looking at the circulatory system, developing their knowledge of the heart, blood vessels, blood itself as well as finding their own pulse - although some struggled more than others and needed to be reassured that they had one! As you can see from the picture above, the pupils have loved their learning in this area and have created some absolutely stunning pieces of work within their books.
Art: In recent weeks, we have been looking at Henry Moore and his war paintings, using wax resist. We then created a poppy for remembrance in the style of his artwork. Please keep an eye out for whole-school artwork based on remembrance after half term.
---
Key information about next half term (Autumn 2)
There is no stopping Year 6 and next half term we start as we mean to go on by heading straight off to Condover for our residential week full of adventure, memories and mud! Please make sure that you come to school on the 4th November prepared for the outdoors, armed with your medical form and suitcase. A kit list - if you have lost this - can be found on the website.
On our return there will be a celebration event on the 18th November (6pm KS1 hall), where photographs will be shared of the week.
Forest Schools will also be running for Year 6 next half term - please see the letter for more information about this fantastic opportunity that starts on the 15th November.
We are currently planning the family learning event for WW2 family Christmas - which will take place on the 8th December and we look forward to seeing the 'Anderson Shelters'. that you have been tasked with creating.
Before we know it, it will be Christmas and the 16th December is the carol service for KS2 - put the date in your diary.
---
Welcome to Year 6, 6DW.
Well, here we are again - same class, same teacher but different classroom and different name! Plus a close-up view of the building works taking place right outside our classroom.
I have fond memories of last year and am really excited to see what Year 6 brings.
Thank you for visiting our class page - don't forget to stop by regularly to access letters, information, resources and news items. You will also be able to find out what 6DW are up to and view some of our amazing work.
---
Key timetabling information
* 6DW's P.E days are Thursday and Friday afternoons, and both sessions will be taught by Mrs Moores.
* R.E will be taken by Mrs Spooner on a Thursday afternoon.
* Forest Schools will take place on a Friday afternoon this year. * Year 6 will take part in Forest Schools in the half-term before Christmas.
*Homework days remain as in Y5, with homework issued on Wednesday and due in the next Monday. However, there is an increase to two pieces - one English, one Maths - to begin the preparation for secondary school. Spellings will be given out on a Monday and the test will be the following Monday.
*Our class timetable will be available on this page as soon as it is finalised. **Please note that this is subject to change.**
---
An Atlas of Imaginary Places: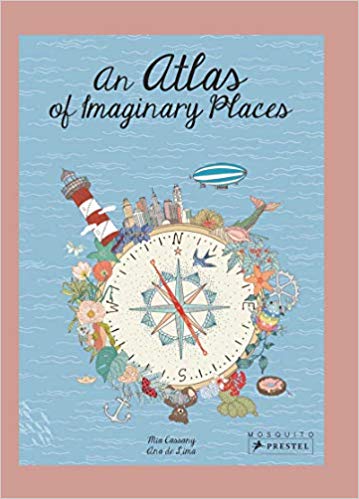 As with previous years, the learning in the first few days will be centred around a whole-school text. This year we have chosen to peer inside this fantastic book, written by Mia Cassany and Ana de Lima! Throughout the first two weeks the whole school will be studying this book and showcasing their skills throughout all lessons. There is a slight difference, however, to the celebration of writing and artwork. On Friday 13th September, school will be open to parents after school if you're keen to see what we get up to linked to the text. I don't want to give too much away, but Y6 are working on 'The Labyrinth of Desires' and 'The Desert of Lost and Found'. I hope that this choice really engages the children as they start their final chapter of Leasowes - keep an eye on the website and newsletters for more information about the showcase event.
---
​A quick update:
Next Tuesday - the 10th September - is our "Meet the Teacher" evenings. Please keep in mind that the Y6 presentation will detail information about your child's education this academic year, and will also be an opportunity to gain information out next half term's residential trip to Condover Hall. Due to the time needed to address both of these topics, Year 6's only session will be at 5:45pm in the KS2 Hall, continuing past 6pm. Note that all other year groups will have two sessions, so if you have a child in another year group, please attend that session at 5:00pm and then join us in the hall following it.

This evening will not detail information regarding end of KS2 SATs; there will be an additional meeting for parents on January 13th 2020.
Please remember that if you have any queries, I am available each afternoon on the school gate - here's to another enjoyable year and the adventures and challenges that we will face together!
Mrs Wood
---
Important Information
Here, we will post important dates and information.
Tuesday 10th September - Meet the Teacher evenings. First session (non-year 6) 5.00pm-5:30pm. Second session (including year 6) 5:45pm.
Monday 4th November- Friday 8th November - Condover Hall residential trip.
---
Useful Links for Year Six
Please let me know if you discover another great one!
BBC Bitesize KS2 - English, Maths and Science videos, games and more.
Spelling Frame - A simple website for practising the Year 3/4 and 5/6 spelling lists.
Espresso Learning - A site school has bought into; see your teacher for your login.
Compare4Kids - Some free activities, including Year 6 SATs 'online boot camps'.
Sumdog - Online maths games. Please see your teacher for your login.
Parkfields Links - Links to a raft of helpful sites for revision.
iXL Maths - a subscription site, with limited free activities. Great for focusing on specific maths skills.
Clarity Maths - A site with links to old style Key Stage 2 Maths Papers, Maths Tutorials as well as Maths Games. Some of these games are linked to Memory and would therefore help pupils to retain key information.
Mad4Maths - Click on "For Kids" to access some fun games to practise speed of recall of times tables.
Crickweb - A range of English games and activities.
KS2 Literacy - Activities to reinforce and practise a range of spelling rules.
Spellzone - A range of activities and games to practise a range of spelling rules and patterns.
For printable resources, please access our Parent Secure area for Year Six. Click the Parent News tab at the top of the page. This will give you access to TT38 (times table) resources, arithmetic/reading/grammar test resources and more, that we can only offer to parents if uploaded in a password protected area. If you have lost yours, please see someone in school for the username and password.
---