Physical Education
Subject Lead: Mrs K Moores
At Leasowes we ensure that PESSPA (Physical Education, School Sport and Physical Activity) is experienced regularly, in a safe and supportive environment. Through our high quality PESSPA programme our pupils become physically literate and develop the knowledge, skills and motivation necessary to equip them for a healthy active lifestyle and a lifelong participation in physical activity and sport. Our children develop the skills and confidence to reach their full potential as participants, performers and leaders and they also learn how to improve their health and fitness and to find physical activities they enjoy doing both in and out of school. They are also given the opportunity to compete in sport and other activities to build character and help to embed values such as fairness and respect.
Our PESSPA programme is divided into three areas:

Our PE programme is underpinned by and exceeds the expectations of the national curriculum programmes of study and aims to ensure that our children:
Develop competence to excel in a broad range of physical activities
Are physically active for sustained periods of time
Engage in competitive sports and activities
Lead healthy, active lives
Our ambitious curriculum provides activities to promote a broad base of movement knowledge and skills, placing pupils in cooperative, collaborative and competitive situations. Additionally, our School Sport programme which is the structured learning that takes place beyond the curriculum (often referred to as out of hours learning) is coherently planned to develop and broaden the foundation learning that takes place during PE lessons. We also deliver a bespoke Health and Fitness programme across the Key Stages that focuses not only upon improving physical fitness, but also educates our pupils on how to lead healthy, active lifestyles.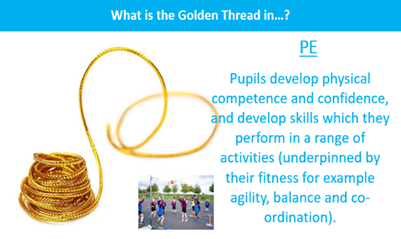 In Year 5, our pupils also study a leadership module that enables them to develop a wide range of important life skills. Our Year 5 sports leaders then deliver our Active Lunchtimes Programme which provides opportunities for pupils to further develop and refine basic fundamental movement skills. It also supports us to achieve the governments health recommendation of 30 minutes of daily physical activity.
We provide both a broad and balanced extra-curricular programme that includes a wide range of activities. These activities enable our pupils to experience both competitive and non-competitive activities along with activities that involve problem solving, creativity, and working individually and as part of a team.