Reception
Can you guess who visited us in Reception this week?
On Monday morning, we came into school to find a crime scene! We had to use our investigation skills to look for clues and determine who the culprit was. After some discussion, we decided that it was Goldilocks who committed the crime! Those poor 3 bears.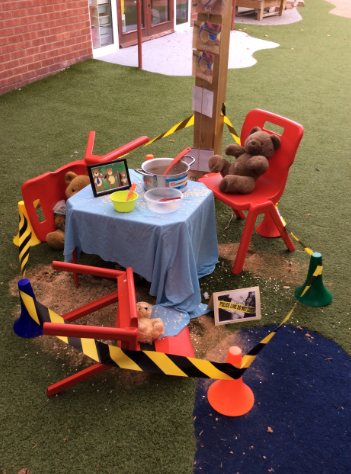 Welcome to our class page.
Welcome to Reception!
We are looking forward to sharing our learning experiences with you.
We have some exciting topics and activities planned.
Autumn 1-Houses and Homes







Week 1: Induction week/settling in
Week 2: All about Me/Home
Week 3: Goldilocks and the Three Bears
Week 4: The Three Little Pigs
Week 5: The Gingerbread Man
Week 6: Pussy cat, pussy cat, where have you been? I've been to London to visit the Queen.
Week 7: Houses and Homes
Week 8: Winnie the Witch
Please download our weekly newsletter in the 'Letters Home' file to find out what exciting learning experiences we have planned this term!
---
Information:
PE will be on Thursday afternoon. Please ensure your child's PE kit is brought into school on this day. We will be sending your child's PE kit home on the same day so it can washed and returned to school every Thursday.
Please note: we will not be storing PE kits at school at present.
Please ensure that all clothing items and water bottles are clearly labelled.
For more information regarding the Reception baseline assessment, please download the 'Information for Parents Reception baseline assessment' below.
---
If you do have any questions or concerns then do not hesitate to talk to a member of the Reception team.
Miss Ashton & Miss Chesworth