Year 1
Welcome to Year 1!
We are so happy that you are here and hope that you enjoy finding out about our learning journey along with being kept up to date with important events. Please follow us on Twitter @LeasowesPrimary for more updates on our learning.
Mrs Dodd and Miss Thelwell

Monday 23rd October 2023
Can you believe we have finished the first half term of the year? Wow it has been a long half term but the children have absolutely done themselves proud. They have worked exceptionally hard across the curriculum, have showed a real love for their learning and it feels like they have always been Year 1 children. Every challenge we set them they rise to and we could not be prouder.
This half term has seen us develop our understanding of Toys Through the Years in History; they have identified old and new toys, put toys in chronologocial order and showed excellent reasoning skills, reflecting on how toys can show how their lives are different to those who lived in the past. They have also been learning about the invention of the teddy bear by a man called Morris Michtom! In Science, they have developed their understanding of materials and their properties and were able to save Paddington from getting wet by investigating the best material to make him a new umbrella.
The teddy bear line drawings they have created are incredible. The children have worked extremely hard on creating value in their drawings and these bears are on display in the classrooms...they should be so proud!
English has seen us cover a variety of different text times; writing instructions for a cup and ball toy, writing an information book for our Grandparents about our toys and even writing a letter to Aunt Lucy from Paddington. In Maths, the children have developed their number knowledge using place value, addition and subtraction and this week have been applying their understanding to learning about length and solving problems.
We wish them a very happy half term and look forward to seeing them back in school the following week. As always, keep an eye on Twitter for our updates. Just a reminder that PE will be on the 1st Monday back due to a change that week in the timetable.
Mrs Dodd and Miss Thelwell
Recent Tweets...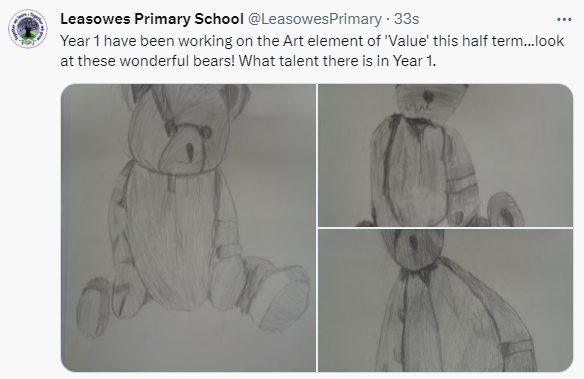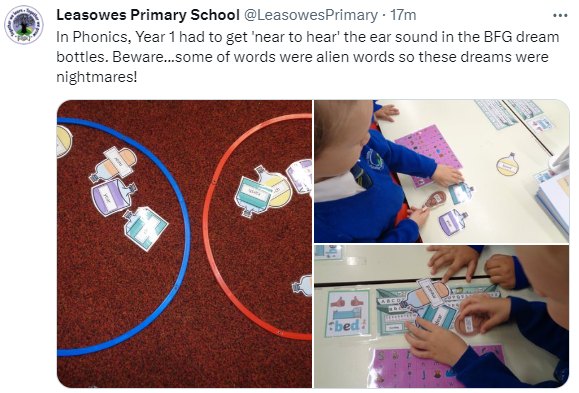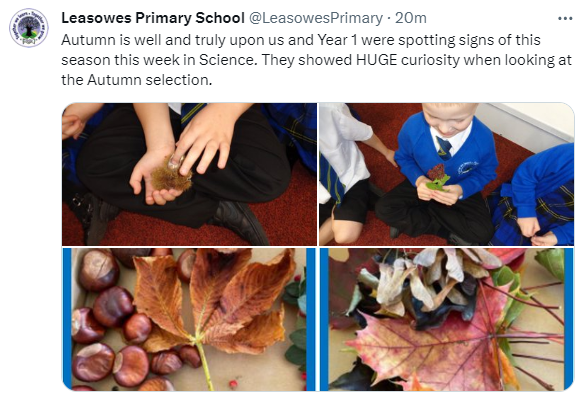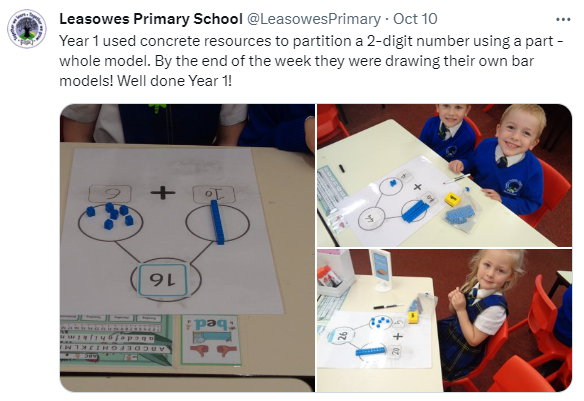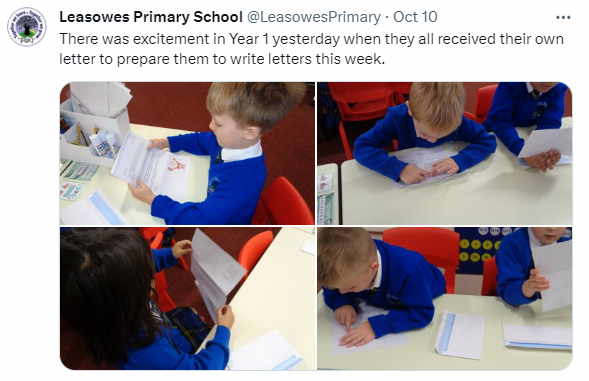 Monday 18th September 2023
Wow! We cannot believe how well the children have settled into Year 1 already. It is like they have always been here! We have been doing some amazing learning linked to materials in Science and in English the children set up their own Toy Museum and invited the Year 3 children to visit. In History they loved exploring the old toys and we cannot wait to see their special toys this week.
The children have come home with a Phonics book and a Reading book now. The Reading book is changed on a Monday and a Thursday. The Phonics book is sent home each Tuesday and is to be returned on Friday. The children have also received their first week of spellings this week. These will be tested in their Spelling book on Friday so please make sure the children have them in their book bag ready.
Below is a snapshot of some of our learning that has taken place already. Be sure to check out our tweets on Twitter (X).
As always, we are available each morning and evening on the door if you need to speak to us.
Mrs Dodd and Miss Thelwell :)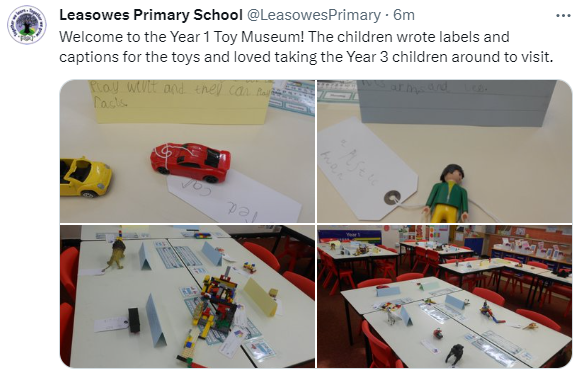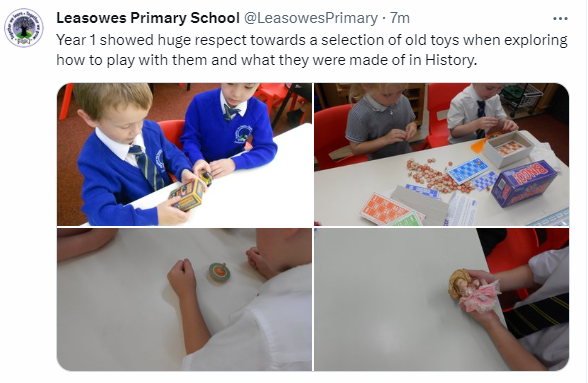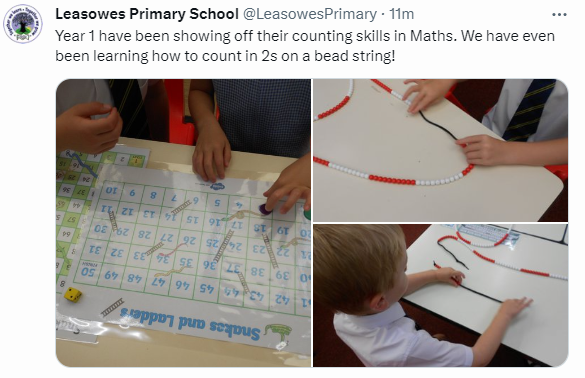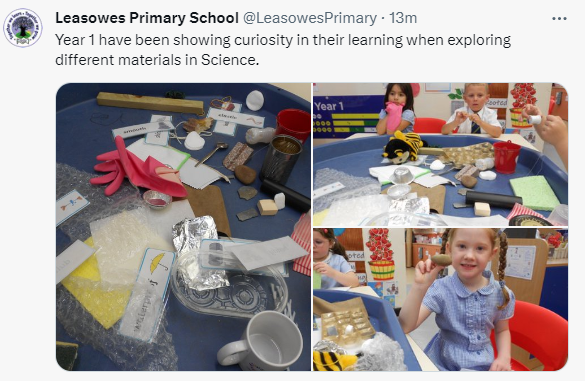 Monday 4th September 2023
WOW! Welcome to Year 1 everyone! We hope you are as excited as we are about starting the next stage in your learning journey. Year 1 is such an exciting year and we know you will all enjoy it as much as we do. The Autumn term sees us learning all about toys in our Terrific Toy Tales topic. We learn all about toys from the past in History, the materials that toys are made from in Science and we explore a range of texts through our English including Paddington by Michael Bond, Old Bear by Jane Hissey and Toys in Space by Mini Grey. This book links nicely with learning all about Neil Armstrong too!
Key Information:
Phonics books will be given out every Tuesday and are due back every Friday.
Reading Diaries are collected and checked every Monday and Thursday. Please try to read for at least 10 minutes everyday. It makes such a difference!
PE is on a Wednesday and a Friday.
Coming Up This Term: Important dates for your diary:
Monday 20th November - Educational Visit to Cannock Chase Toy Museum
Wednesday 13th December - Christmas Jumper Day & Christmas Dinner Day
Thursday 14th December - KS1 Production
Please find attached the Autumn timetable for both classes. We cannot wait to share some of their learning with you on here and on Twitter! As always, we are available each morning and evening at the door if you need to speak to us.
Mrs Dodd and Miss Thelwell :)