Year 4
Welcome to Year 4
Welcome to our page and thank you for visiting! Here, find out what Year 4 are up to, view some of our amazing work and keep up-to-date with notices and dates important to our year group.
Please use these clickable links to navigate our page.
Important Information / Useful Links
---
Please find 'Meet the Teacher' slides attached at the end of this page.
---
Hi everyone and welcome back! On this page, we will post updates specific to Year 4, key dates for your diaries as well as some information about our curriculum. In the 'Important Information' section below, you can find out about our PE days, reading books and we will be updating parents in due course about the arrangements for 'Meet the Teacher' this year. We would also like to take this opportunity to refer you to the 'Homework' tab/section and also the 'Useful Links' below that can be used to help support your child's learning at home.
In Year 4, we are really proud of our curriculum and study some fantastic history and geography topics that are used to inspire our learning in many subjects. To find out more information about our 'Dragon Invaders' (Anglo-Saxons and Vikings), 'Off with their head!' (Tudors) and 'Pisa, Paella and Paris' (a European study) topics, please see the 'Learning for Life' tab on the blue navigation toolbar above, and head to the 'Curriculum' section. We have put together some handy knowledge organisers for each topic that outline the key knowledge and pieces of information that the children will need to learn and remember. You will also find 'Year Group Overviews' in the Curriculum area that give an overview of what your child will learn about in all subjects during Year 4.
Our school prides itself on its reading culture and our philosophy of being 'Rooted in Reading'. Every year, we begin with a whole school focus and celebration of a shared book. Last year, we embarked on a journey to becoming a 'Right's Respecting School' and we are working towards our silver award. As a result, our focus text this year is the wonderful book 'For Every Child' by UNICEF. It focuses on the 'Convention of the Right's of the Child' with each page focusing on a different right or article with illustrations produced by varying artists. For our first two weeks of term, much of our learning will be focused on this text, where we will be using the book as a stimulus to study a range of subjects: reading, writing, RE, PSHE, art and Geography.
​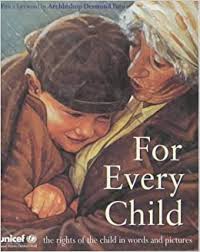 If you have any queries regarding your child, please either speak to us directly at the end of the school day, or leave a note in your child's Home School Record.
With thanks for your continued support,
Mrs Till, Miss Matthews and Miss Thelwell
---
Important Information
Here, we will post important dates and information.
Please see our school calendar on the parent news tab for upcoming whole school dates.
Y4 have PE on a Tuesday and Thursday. This could be indoor or outdoor depending on the weather, so please make sure children have appropriate kit. We will encourage the children to bring their PE kits home on a Thursday to return to school on a Tuesday.
We are able to send reading books home for the children to borrow and these will be sanitised on their return to school. If you would prefer for your child not to borrow a school reading book, please let us know by recording a note in your child's Home School Record.
Meet the Teacher - dates TBC.
---
Useful Links for Year Four
Please let us know if you discover another great one!
BBC Bitesize KS2 - English, Maths and Science videos, games and more.
Spelling Frame - A simple website for practising the Year 3/4 and 5/6 spelling lists.
Espresso Learning - A site school has bought into; see your teacher for your login.
Sumdog - Online maths games. Please see your teacher for your login.
Mad4Maths - Click on "For Kids" to access some fun games to practise speed of recall of times tables.
Crickweb - A range of English games and activities.
KS2 Literacy - Activities to reinforce and practise a range of spelling rules.
Spellzone - A range of activities and games to practise a range of spelling rules and patterns.
My Mini Maths
Completely free to use. The Mini-Maths section allows quick warm ups where you can practise the same concept for 5 days in a row. They also have something called TT38 (times table challenge) based around the premise that when you remove the easier times tables they call the basics, there are 38 core facts to know. Children practise these core and basic facts, alongside the related division facts in a rotation of ten days. Find more information here... https://myminimaths.co.uk/tt38-times-tables-skill-builder/
White Rose Maths
https://whiterosemaths.com/homelearning/
This is a resource we use frequently in schools to support children with reasoning and problem solving.
Times Table Rockstars
Children can use this as part of our whole school subscription to practise daily times tables. Please see your child's Home School Record for their login details.
Once Upon a Picture, The Literacy Shed, Pobble 365
https://www.onceuponapicture.co.uk/
https://www.literacyshed.com/home.html
These websites are packed full of fantastic stimuli for writing, from pictures to video clips. There are often teaching suggestions to help, story starters and questions to ask.
Reading Cloud
Children can use the whole school subscription to the Reading Cloud by using their individual barcodes in their Home School Records. There are some ebooks that they can access to read from home. They can also search for books and write their own reviews.
Espresso and Education City
https://www.discoveryeducation.co.uk/
https://www.educationcity.com/
Children can use Espresso and Education City as part of our whole school subscription. They have passwords for these within their Home School Records. Here, they can also watch clips, complete activities and play games for a varying range of foundation subjects too like history, geography and languages as well as the core subjects. Espresso is a great website for science.