Year 4
Welcome to Year 4
Welcome to our page and thank you for visiting! Here, find out what Year 4 are up to, view some of our amazing work and keep up-to-date with notices and dates important to our year group.
Please use these clickable links to navigate our page.
Important Information / Useful Links
---
April 2022
Wow! We can't believe that we are half way through this academic year already. Our time with 4KM and 4LT is absolutely flying by. It seems two minutes ago that we were busy making transition letters for our school values displays.
We are now coming to an end on our 'Off with their Head' topic and are looking forward to moving on to 'Pisa, Paella and Paris', a geography-based topic that looks at three European countries and their food, climate, tourist attractions and much more. We all thoroughly enjoyed out visit to the Ancient High House and we were so proud of how the children represented Leasowes. The amount of learning that took place in one day was phenomenal and I am sure you can agree that the children were truly buzzing about their day.
In our English lessons, we have been investigating the brutal murder of King Duncan from William Shakespeare's play, Macbeth. We have been taking evidence from Andrew Matthews' adaptation to infer who the real murderer was. Lady Macbeth, Macbeth and the guards have faced some brutal questioning from Year 4 to inform their newspaper reports.
In the final week of this half-term, Year 4 will be making their final design of their Tudor purse. We have considered the purpose and audience of our products and will use our sewing skills to successfully create a purse that can hold money. We have spent two weeks practising running stitch, back stitch and cross stitch to secure the material, and the French knot, lazy daisy and the woven wheel to make our purses aesthetically pleasing.
Updates and Reminders
Please remember that children need to bring their reading diary to school each day.
We will confirm PE days after the Easter holidays.
As ever, thank you for all of your support at home.
If you have any queries, please do not hesitate to speak to us on the gate.
Mrs Till, Miss Matthews and Miss Thelwell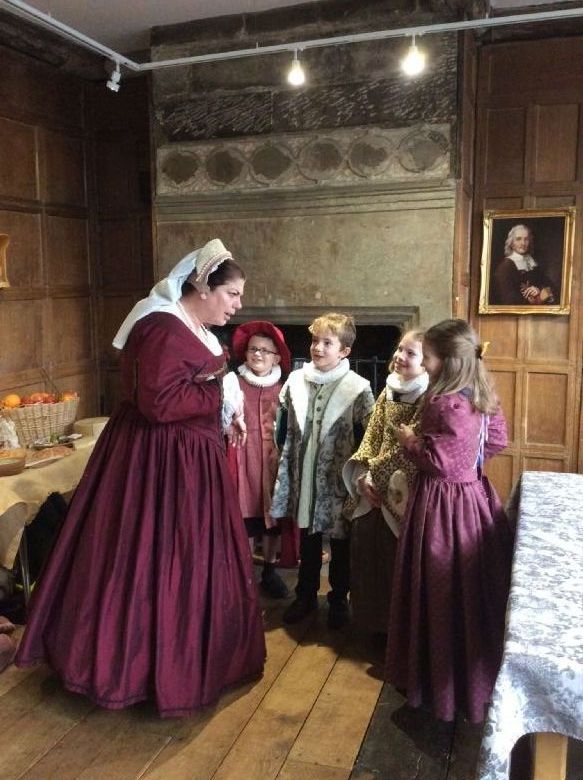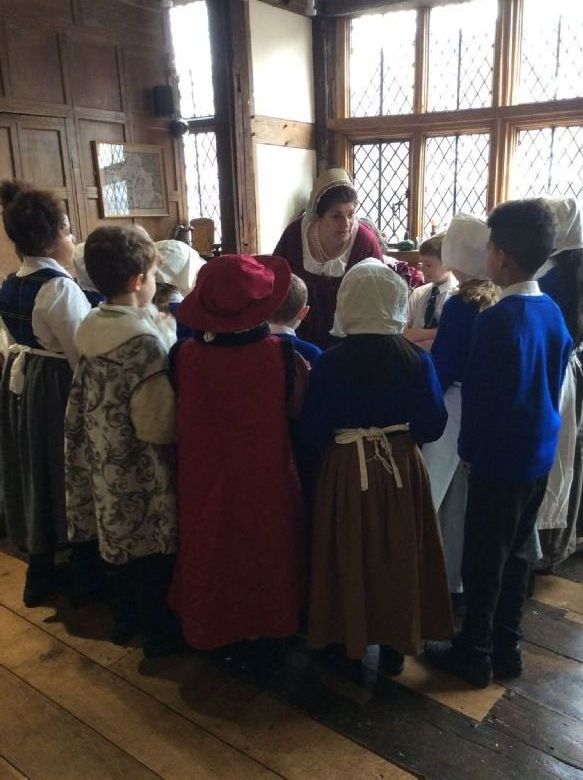 ---
January 2022
Happy new year everybody! We hope that you all managed to have a lovely rest over the Christmas holidays. It has been so lovely to see the children back in school this week and so eager to continue with their learning. This term, we will be moving on to our new topic which drives many areas of the curriculum. Our new topic is called "Off with their head!" and is a history study on the life and reign of the Tudors. During this topic, we encompass many areas of the wider curriculum as the children will be reading "A pig called Henry" in their English lessons and developing their drawing skills as they learn about portraits in Art.
This term, children will also be developing their swimming skills as all Year 4 will take part in weekly swimming sessions. These sessions will run on a Tuesday morning during school time. Children will need to ensure that they have the correct swimming kit e.g costume/shorts, a towel and goggles if the letter has been returned, clothing for getting changed in and out of and also suitable clothing and footwear for the walk to the swimming site.
We are still continuing to drive the rapid recall of times tables in preparation for the multiplication check at the end of the school year. Before the Christmas holidays, slips were sent out to inform you which specific times tables your child would be developing. As always, additional support at home with this is always welcomed and appreciated.
4LT will be continuing with their violin lessons provided by Mrs Hollingshurst and these will still run on a Wednesday afternoon. Please can you ensure that your child has their violin in school on this day. After the February half term, 4KM will then have their turn for these sessions.
Thank you again for your continued support,
Miss Thelwell and Miss Matthews :)
---
November 2021
Welcome back to Year 4's class page! The weeks are flying by as we are now in our second half-term of the academic year and slowly creep towards the Christmas break. Having thoroughly enjoyed our work on 'Black Rock', we are now enthralled by our first Year 4 topic 'Dragon Invaders'. The children are loving reading 'How to Train your Dragon' by Cressida Cowell and have taken on the role of dragonologists very well. The children have produced some fantastic non-chronological reports based on their own individualised dragons which are now on display in our classrooms alongside their remarkable sketches of dragon features. The children are currently writing explanation texts to help poor Hiccup learn how to train his disobedient dragon to obey simple commands, catch prey and fly. Hiccup is the only Viking who can speak Dragonese on the Isle of Berk so we are hoping this works in his favour! To finish this term, we will be reading 'Beowulf' by Michael Morpurgo and starting a myth writing unit that will take us into the start of the Spring term.
To add context to our novel, we have been learning about the Anglo-Saxons and Vikings in our topic lessons. Year 4 have loved identifying the areas of Britain, which were named by the Anglo-Saxons and Vikings, that still exist today. Last week, we used trundle wheels to draw a life size Viking longship on the playground. The children stepped inside to imagine how tightly packed the longships must have been with 200-300 Vikings, 30 oarsmen and all of their belongings onboard as they travelled from Scandinavia to Britain. We are amazed at how absorbed the children are in this topic and have thoroughly enjoyed seeing all of the extra learning that children have been doing at home. In Design and Technology lessons, children are going to be busy creating a design criteria for a Viking longship sail which they then use to plan prototypes for a longship sail in small groups. Very soon, the children will spend all day creating the base and sail of a Viking longship to withstand the conditions of the North Sea. The children will then test their sail designs and identify strengths and areas which they would like to develop. We cannot wait to see the children's prototypes come to life!
In order to ensure the children are fully prepared for the multiplication check in the summer term, and to ensure they are sufficiently developing their mental maths skills, Y4 have been fully embracing their multiplication time during registration and have had the courage to challenge themselves on their target times table. It is so lovely to see the children asking both Miss Matthews and Miss Thelwell to test them on their target times table to see if they're ready for the next one. It is this love of learning that will allow the children to succeed! Already this year, Year 4 have faced place value, fractions, decimals, the four operations, methods of multiplication and we are currently looking at time! Utilising our 'orange retrieval' approach, children have been recalling previous learning to help them with new concepts. We are very impressed with the children's determination and perseverance in all lessons to fill any gaps in their learning.
Finally, we have begun our Animals Including Humans topic in science by looking at teeth. We completed a comparative investigation to look at the effect that different liquids have on our teeth over time using an egg and a variety of drinks. Visit our twitter page to see our results! We enjoyed watching the eggs change every day and for the milk, a very strong stomach was required. We then collaborated together to quite literally delve deep into the digestive system completing a practical re-enactment of food travelling through our bodies. The children thoroughly enjoyed mimicking this messy process and learning about how the body breaks down the food into substances that the body can use. We are now focusing on food chains, food webs and grouping animals into different categories such as diet and habitat. Again, it is wonderful that the children have such enthusiasm about this topic.
Year 4 are extremely fortunate to have Violin lessons provided by Entrust. 4LT have made a fabulous start already and are sounding amazing! 4KM cannot wait to have their turn from February half-term onwards. Meanwhile, 4KM have been busy learning to play the glockenspiels. Keep posted for a Christmas surprise!
Updates and Reminders
Please remember that children need to bring their reading diary to school every day.
PE is now on Tuesdays until Christmas.
Safety First representatives, have now been chosen and are busy completing their daily duties.
JLT candidates will be chosen in due course.
Swimming will recommence on Tuesday's from Christmas. Correspondence will be sent out in due course.

As ever, thank you for all of your support at home.
If you have any queries, please do not hesitate to speak to us on the gate.
Miss Matthews and Miss Thelwell
---
September 2021
Hi everyone and welcome back! On this page, we will post updates specific to Year 4, key dates for your diaries as well as some information about our curriculum. In the 'Important Information' section below, you can find out about our PE days, reading books, and we will be updating parents in due course about the arrangements for 'Meet the Teacher' this year. We can't wait to see you all face to face and encourage as many of you as possible to attend. We would also like to take this opportunity to refer you to the 'Useful Links' below that can be used to help support your child's learning at home.
In Year 4, we are really proud of our curriculum and study some fantastic history and geography topics that are used to inspire our learning in many subjects. To find out more information about our 'Dragon Invaders' (Anglo-Saxons and Vikings), 'Off with their head!' (Tudors) and 'Pisa, Paella and Paris' (a European study) topics, please see the 'Learning for Life' tab on the blue navigation toolbar above, and head to the 'Curriculum' section. We have put together some handy knowledge organisers for each topic that outline the key knowledge and pieces of information that the children will need to learn and remember. You will also find 'Year Group Overviews' in the Curriculum area that give an overview of what your child will learn about in all subjects during Year 4.
Our school prides itself on its reading culture and our philosophy of being 'Rooted in Reading'. Every year, we begin with a whole school focus and celebration of a shared book. This year, we have chosen the fabulous 'The Secret of Black Rock' by Joe Todd Stanton. For our first two weeks of term, much of our learning will be focused on this text, where we will be using the book as a stimulus to study a range of subjects, more specifically: Reading, Writing and Art.
​If you have any queries regarding your child, please either speak to us directly at the end of the school day, or leave a note in your child's Home School Record.
With thanks for your continued support,
Miss Thelwell and Miss Matthews
Important Information
Here, we will post important dates and information.
Please see our school calendar on the parent news tab for upcoming whole school dates.
Year 4 have PE on a Tuesday. This could be indoor or outdoor depending on the weather, so please make sure children have the appropriate kit. We will encourage the children to bring their PE kits home on a Friday to return to school on a Tuesday.
Reading books will be sent home regularly and the children are encouraged to be as independent as possible when it comes to changing these. As soon as we are back up and running with our regular library slots, children will also be able to read a book for pleasure and bring this home too.
Homework is given out on a Wednesday and is to be returned the following Monday.
New spellings are given out on a Monday and are tested on the following Monday.