Year 4
Welcome to Year 4
Welcome to our page and thank you for visiting! Here, find out what Year 4 are up to, view some of our amazing work and keep up-to-date with notices and dates important to our year group.
Please use these clickable links to navigate our page.
Important Information / Useful Links
---
17th March 2021
What a fantastic few weeks we have had back at school! Miss Matthews, Mrs Till, Miss Thelwell and Mrs Hodgens are absolutely thrilled to have the children back at school and to be doing what we do best! The children have adapted back to the school routine very well meaning that we can hit the ground running with our learning.
As our curriculum is rooted in reading, we have begun the half term by immersing ourselves in our new text 'Macbeth' by Andrew Matthews. This text is a fabulous retelling of the classic tale of witches, murder and madness. We revealed the first 16 pages of the text to the children and left them on tenterhooks to predict who committed the murder of King Duncan. Year 4 produced some amazing reasoning answers which justified their predictions using clues from the text. We were blown away by the children's detective skills and enthusiasm.
It was clear to see how hard the children had worked during home learning as we continued to explore multiplication and division in our maths lessons. Children were using the short method of division to divide two and three digit numbers by a one digit number. The children were very glad to hear that this is a Year 5 objective that they were working towards! The atmosphere has been electric in Year 4 this week as we have continued to explore our new topic of electricity. There was a chorus of 'WOW's' across the room as we used wires, cells, buzzers and bulbs to manipulate electrical circuits.
As always, we are absolutely thrilled that some children have shown their love for learning by completing extra sewing practice at home in preparation for our DT lessons. This half term, the children will be making their own purse. We thoroughly enjoyed making our Viking longships last term and it is lovely to see that the children are just as enthusiastic about their purses! Our Year 4 cohort are extremely creative (sometimes a little ambitious) and have thought of some brilliant design ideas. We may have a future Coco Chanel amongst the year group!
4TM hav started their Violin lessons with Mrs Hollingshurst on a Wednesday afternoon. The children have now been assigned a Violin each to play during the lessons. They are sounding fabulous so far! 4LT are going to begin using the glockenspiels very soon too. Year 4 teachers are also busy arranging a time slot with Walton High School to begin our swimming lessons after Easter.
We still have so much to look forward in Year 4 and we are thrilled that the children are back in school to do this together. Thank you for all of your support over the lockdown period.

Updates and Reminders
Please remember that children need to bring their reading diary to school each day.
PE will continue to be on Tuesdays and Fridays.
If you have any queries, please do not hesitate to speak to us on the gate.
Miss Matthews, Mrs Till and Miss Thelwell
---
30th November 2020
Welcome back to Year 4's class page! The weeks are flying by as we creep towards the Christmas break. Having thoroughly enjoyed our work on 'For Every Child', we are now enthralled by our first Year 4 topic 'Dragon Invaders'. The children have loved reading 'How to Train your Dragon' by Cressida Cowell and have adopted the role of Dragonologists very well. The children produced some fantastic non-chronological reports on their individualised dragons which are now on display in our Year3/4 corridor alongside their remarkable sketches of dragon features. The children have just finished writing persuasive letters to Stoick the Vast after he discovers a Seadragonus Giganticus Maximus on the shores of Berk. Stoick needs his son Hiccup, the only Viking who can speak Dragonese, to return to the Isle of Berk in order to find out if the dragon comes in war or peace. Using their inference skills, the children have come to the conclusion that this dragon is of great danger to the tribe and are eager to read the final chapters of the story this week to determine Hiccup's fate. To finish this term, we will be reading 'Beowulf' by Michael Morpurgo and starting a myth writing unit that will take us into the start of the Spring term.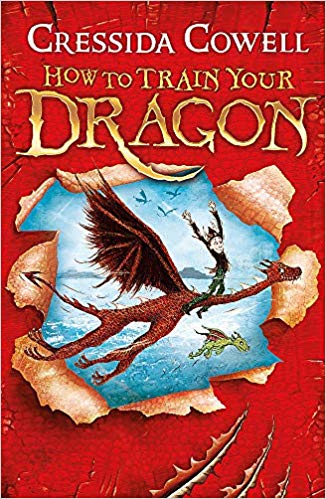 To add context to our novel, we have been learning about the Anglo-Saxons and Vikings in our topic lessons. Year 4 have loved identifying the areas of Britain which were named by the Anglo-Saxons and Vikings that still exist today. Last week, we used trundle wheels to draw a life size Viking longship on the playground. The children stepped inside to imagine how tightly packed the longships must have been with 200-300 Vikings, 30 oarsmen and all of their belongings onboard as they travelled from Scandinavia to Britain. We are amazed at how absorbed the children are by this topic this year and have thoroughly enjoyed seeing all of the extra learning that children have been doing at home. In Design and Technology lessons, children have been busy creating a design criteria for a Viking longship sail which they then used to plan prototypes for a longship sail in small groups. On Tuesday, the children will spend all day creating the base and sail of a Viking longship and assemble them to withstand the conditions of the North Sea. The children will then test their sail designs and identify strengths and areas which they would like to develop. We cannot wait to see the children's prototypes come to life!
Already this year, Year 4 have faced place value, fractions, decimals, the four operations, methods of multiplication and time! Utilising our 'orange retrieval' approach, children have been recalling previous learning to help them with new. We are very impressed with the children's determination and perseverance in all lessons to fill any gaps in their learning. In order to ensure the children are fully prepared for the multiplication check in June, and to ensure they are sufficiently developing their mental maths skills, we have a discrete mental maths lesson on a Friday afternoon. During this lesson, the children have access to a range of different times table games and activities and are encouraged to complete all tasks over a two-week period. We are also encouraging the children to continue practising their times tables on TTRockstars at home and are regularly checking the children's engagement with this.
Finally, we have begun our Animals Including Humans topic in science by looking at teeth. We completed a comparative test to look at the effect that different liquids have on our teeth over time using an egg and a variety of drinks. We enjoyed watching the eggs change every day, and the milk… well that was a science experiment in itself! A very strong stomach was required. We then, quite literally, delved deep into the digestive system completing a practical re-enactment of food travelling through our bodies. The children thoroughly enjoyed mimicking this messy process and learning about how the body breaks down the food into substances that the body can use. We are now focusing on food chains, food webs and grouping animals into different categories such as diet, habitat and classification. Again, it is wonderful that the children have such enthusiasm about this topic.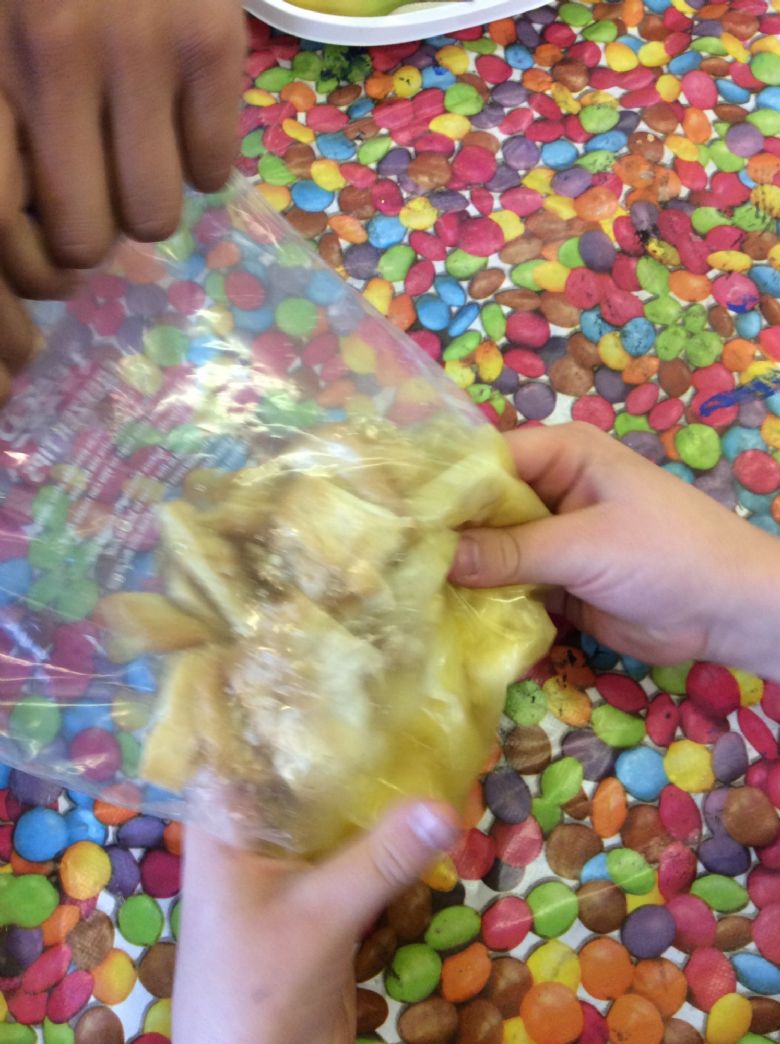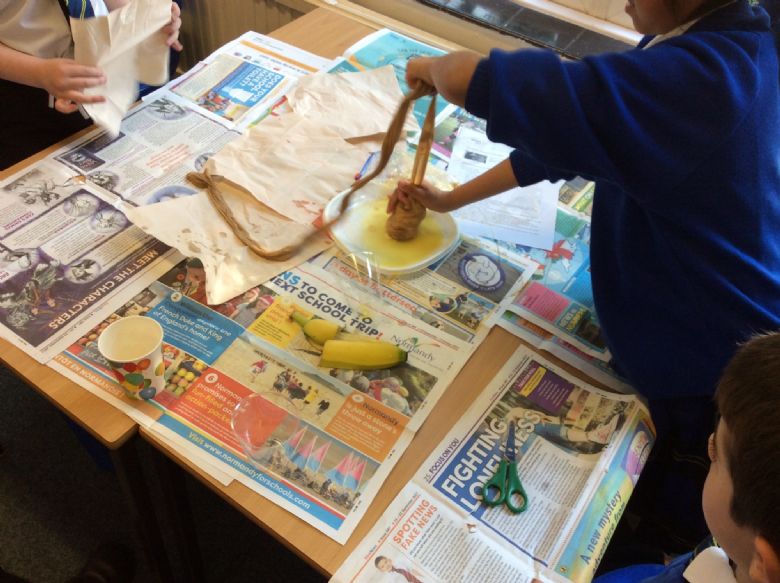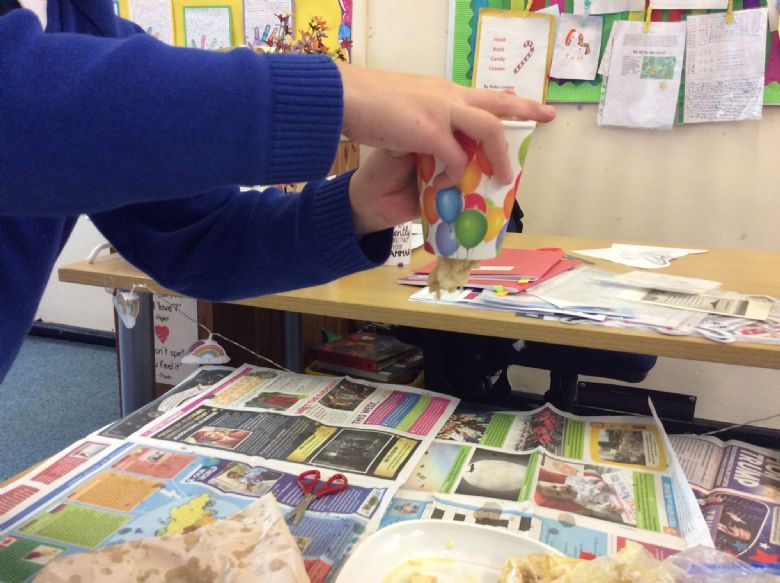 Year 4 are extremely fortunate to have Violin lessons provided by Entrust. 4LT have made a fabulous start already and are sounding amazing! 4TM cannot wait to have their turn from February. Meanwhile, 4TM have been busy learning to play the glockenspiels. Keep posted for a Christmas surprise!
Updates and Reminders
Please remember that children need to bring their reading diary to school each day.
PE is now on Tuesdays and Fridays until Christmas.
ECO representatives, who will be taken only from Year 4, have now been chosen and Mrs Hill is busy organising meetings for these children.
As ever, thank you for all of your support at home.
If you have any queries, please do not hesitate to speak to us on the gate.
Mrs Till, Miss Matthews and Miss Thelwell
---
Please find 'Meet the Teacher' slides attached at the end of this page.
---
Hi everyone and welcome back! On this page, we will post updates specific to Year 4, key dates for your diaries as well as some information about our curriculum. In the 'Important Information' section below, you can find out about our PE days, reading books and we will be updating parents in due course about the arrangements for 'Meet the Teacher' this year. We would also like to take this opportunity to refer you to the 'Homework' tab/section and also the 'Useful Links' below that can be used to help support your child's learning at home.
In Year 4, we are really proud of our curriculum and study some fantastic history and geography topics that are used to inspire our learning in many subjects. To find out more information about our 'Dragon Invaders' (Anglo-Saxons and Vikings), 'Off with their head!' (Tudors) and 'Pisa, Paella and Paris' (a European study) topics, please see the 'Learning for Life' tab on the blue navigation toolbar above, and head to the 'Curriculum' section. We have put together some handy knowledge organisers for each topic that outline the key knowledge and pieces of information that the children will need to learn and remember. You will also find 'Year Group Overviews' in the Curriculum area that give an overview of what your child will learn about in all subjects during Year 4.
Our school prides itself on its reading culture and our philosophy of being 'Rooted in Reading'. Every year, we begin with a whole school focus and celebration of a shared book. Last year, we embarked on a journey to becoming a 'Right's Respecting School' and we are working towards our silver award. As a result, our focus text this year is the wonderful book 'For Every Child' by UNICEF. It focuses on the 'Convention of the Right's of the Child' with each page focusing on a different right or article with illustrations produced by varying artists. For our first two weeks of term, much of our learning will be focused on this text, where we will be using the book as a stimulus to study a range of subjects: reading, writing, RE, PSHE, art and Geography.
​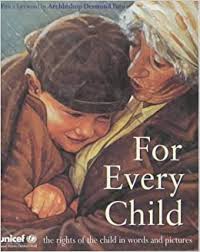 If you have any queries regarding your child, please either speak to us directly at the end of the school day, or leave a note in your child's Home School Record.
With thanks for your continued support,
Mrs Till, Miss Matthews and Miss Thelwell
---
Important Information
Here, we will post important dates and information.
Please see our school calendar on the parent news tab for upcoming whole school dates.
Y4 have PE on a Tuesday and Friday. This could be indoor or outdoor depending on the weather, so please make sure children have appropriate kit. We will encourage the children to bring their PE kits home on a Friday to return to school on a Tuesday.
We are able to send reading books home for the children to borrow and these will be sanitised on their return to school. If you would prefer for your child not to borrow a school reading book, please let us know by recording a note in your child's Home School Record.
---
Useful Links for Year Four
Please let us know if you discover another great one!
BBC Bitesize KS2 - English, Maths and Science videos, games and more.
Spelling Frame - A simple website for practising the Year 3/4 and 5/6 spelling lists.
Espresso Learning - A site school has bought into; see your teacher for your login.
Sumdog - Online maths games. Please see your teacher for your login.
Mad4Maths - Click on "For Kids" to access some fun games to practise speed of recall of times tables.
Crickweb - A range of English games and activities.
KS2 Literacy - Activities to reinforce and practise a range of spelling rules.
Spellzone - A range of activities and games to practise a range of spelling rules and patterns.
My Mini Maths
Completely free to use. The Mini-Maths section allows quick warm ups where you can practise the same concept for 5 days in a row. They also have something called TT38 (times table challenge) based around the premise that when you remove the easier times tables they call the basics, there are 38 core facts to know. Children practise these core and basic facts, alongside the related division facts in a rotation of ten days. Find more information here... https://myminimaths.co.uk/tt38-times-tables-skill-builder/
White Rose Maths
https://whiterosemaths.com/homelearning/
This is a resource we use frequently in schools to support children with reasoning and problem solving.
Times Table Rockstars
Children can use this as part of our whole school subscription to practise daily times tables. Please see your child's Home School Record for their login details.
Once Upon a Picture, The Literacy Shed, Pobble 365
https://www.onceuponapicture.co.uk/
https://www.literacyshed.com/home.html
These websites are packed full of fantastic stimuli for writing, from pictures to video clips. There are often teaching suggestions to help, story starters and questions to ask.
Reading Cloud
Children can use the whole school subscription to the Reading Cloud by using their individual barcodes in their Home School Records. There are some ebooks that they can access to read from home. They can also search for books and write their own reviews.
Espresso and Education City
https://www.discoveryeducation.co.uk/
https://www.educationcity.com/
Children can use Espresso and Education City as part of our whole school subscription. They have passwords for these within their Home School Records. Here, they can also watch clips, complete activities and play games for a varying range of foundation subjects too like history, geography and languages as well as the core subjects. Espresso is a great website for science.