Year 5
Welcome to Year 5
​​
Welcome to the Year 5 page where we will add updates and celebratory showcases of the work we are producing in class. Come back and visit us again for the latest information and to see the fantastic work Year 5 have been producing.
Best wishes from the Year 5 team,
Mr Rock, Mrs Thomas and Mrs Gee
Important Information
Homework: Set on a Wednesday and handed in on a Monday. Spellings will be set on a Monday and tested the following Monday.
PE days: 5GT and 5AR Wednesday and Friday.
November 2021 (Autumn 2)
Monday's return to school marked a journey back in time for Year 5 as they entered a Victorian classroom. The children planned and created costumes over half term which they wore to school giving the classroom an authentic Victorian feel. The day began with girls and boys having their hands and fingernails inspected for dirt and grime by a frighteningly strict Mrs Thomas and Mr Rock. After the inspection the children completed some drill exercises in the hall before returning to t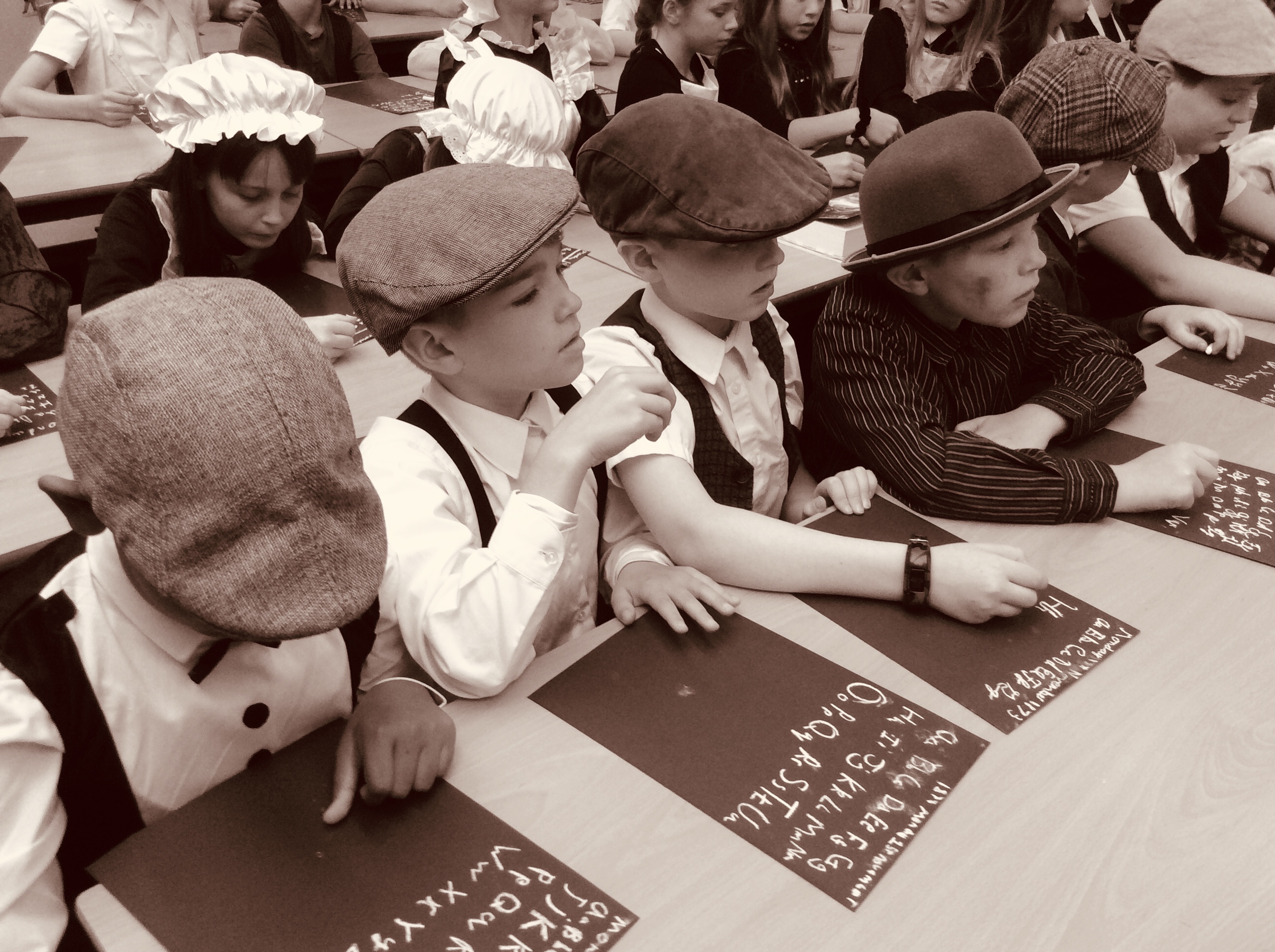 he classroom. Once seated in rows of boys and girls, Year 5 began learning the three Rs (Reading, wRiting and aRithmetic) by handwriting on a slate followed by an arithmetic session. When asked, children were told to stand and answer the teacher in full sentences always using sir/ma'am. Anyone slouching or sitting with elbows on the table would be reprimanded. A science lesson came next followed by deportment and vocal gymnastics . Later in the morning, we sang 'All things bright a beautiful' and learned about the money system used in Victorian England, comparing farthings, shillings, pounds, guineas and pennies.
Having read the thrilling end to Cogheart and concluding our Victorians topic, Year 5 have moved on to our new space topic which also means we have a NEW class text- Cosmic by Frank Cottrell Boyce. Having read the opening chapters, Year 5 have put their reading and writing skills to the test, informing the public of a mysterious rocket launch in Northern China by writing a newspaper report. We investigated different newspaper styles and their audience and purpose before identifying the features of an effective news story. The use of eye-catching headlines, informative orientation paragraphs and formal descriptive language allowed every child in year 5 to write a successful newspaper article.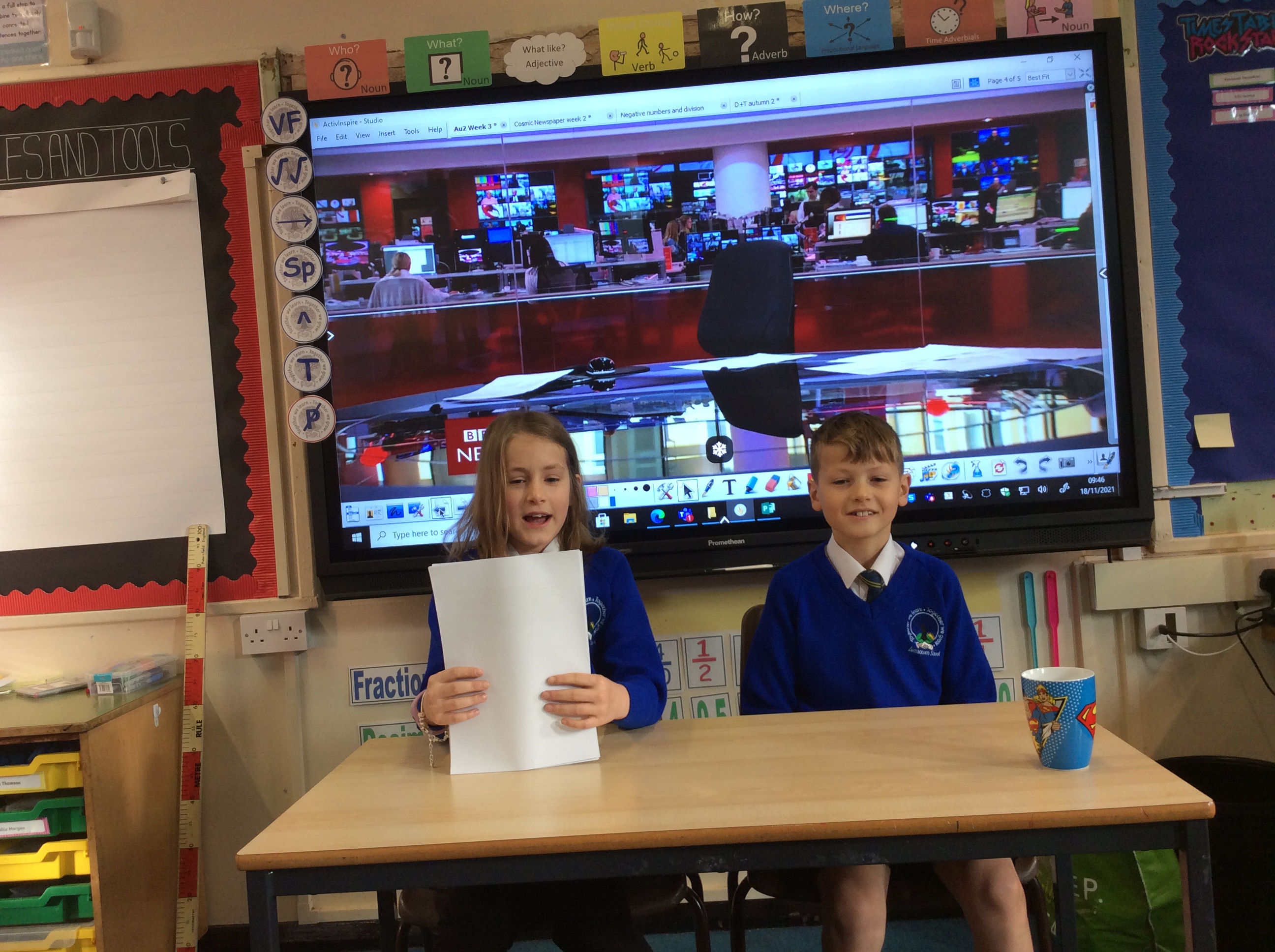 Having written articles, Year 5 also tested their skills as newscasters, investigating news bulletins and what is involved in the role of a newsreader. We focused on intonation, speaking without regional accents and placing emphasis on certain words. We then read a news bulletin from a teleprompter using the skills we had learnt and focused on reading with appropriate pace as if we were true reporters.
September 2021 (Autumn 1)
Welcome back! We hope you have had a fantastic summer break, and we are very pleased to welcome you back to school. We have an exciting year ahead in Year 5 and there is lots to look forward to. There will be some changes to routines, but these will be shared and explained to ensure that we are all comfortable with the new procedures.
Much of our learning for the first two weeks of term will be focused on a text called 'The Secret of Black Rock' by Joe Todd-Stanton. 'The Secret of Black Rock' focusses on young a girl, Erin Pike, and her journey to a mysterious mass of rock in the middle of the ocean. From this tantalising tale, pupils from across the whole school will produce artwork and written pieces inspired by the book with the aim of transforming our displays and celebrating the children's collaborative efforts. There is a timetable attached for your information however this may be subject to change at times.
September also saw us dive in to our new class text for the autumn term - Cogheart. A story of adventure and mystery, Peter Bunzl's Cogheart had Year 5 on the edge of their seats. As always, our texts roots itself firmly in the curriculum, linking closely with our historical topic of Victorians. Year 5 learnt what life was like in Victorian times, investigating jobs, transport, inventions, the industrial revolution, empires and finally - schools.
---
---
Useful Links
BBC Bitesize KS2 - English, Maths and Science videos, games and more.
Spelling Frame - A simple website for practising the Year 3/4 and 5/6 spelling lists.
Espresso Learning - A site school has bought into; see your teacher for your login.
Compare4Kids - Some free activities, including Year 6 SATs 'online boot camps'.
Sumdog - Online maths games. Please see your teacher for your login.
Parkfields Links - Links to a raft of helpful sites for revision.
iXL Maths - a subscription site, with limited free activities. Great for focusing on specific maths skills.
Clarity Maths - A site with links to old style Key Stage 2 Maths Papers, Maths Tutorials as well as Maths Games. Some of these games are linked to Memory and would therefore help pupils to retain key information.
Mad4Maths - Click on "For Kids" to access some fun games to practise speed of recall of times tables.
Crickweb - A range of English games and activities.
KS2 Literacy - Activities to reinforce and practise a range of spelling rules.
Spellzone - A range of activities and games to practise a range of spelling rules and patterns.