Year 5
Welcome to Year 5
​​
Welcome to the Year 5 page where we will add updates and celebratory showcases of the work we are producing in class. Come back and visit us again for the latest information and to see the fantastic work Year 5 have been producing.
Best wishes from the Year 5 team,
Mr Rock, Mrs Thomas and Miss Quimby
Important Information
Homework: Set on a Wednesday and handed in on a Monday. Spellings will be set on a Monday and tested the following Monday.
PE days: 5TR and 5DW Tuesday and Friday.
Summer Term 1 2021
After a restful Easter half-term, Year 5 have stepped through the doors of Hogwarts to begin our journey into the magical topic of 'Harry Potter and the Classroom of Secrets'. The children can't wait to get started on our class text, 'Harry Potter and The Philosophers stone', embracing all things magical as our reading is rooted across the curriculum. We will keep you up to date with some of the wizardry year 5 produce over the coming weeks...
This week, Year 5 have used potions to measure capacity in maths, however, converting millilitres to litres can be tricky when you are trying to avoid spilling troll bogies on your uniform! In writing, children have produced Hogwarts acceptance letters as well as Howlers which were performed with all the fury of an angry half-giant! Children were also sorted into their Hogwarts houses and given the opportunity to make their own wands culminating in a truly spellbinding start to the summer term.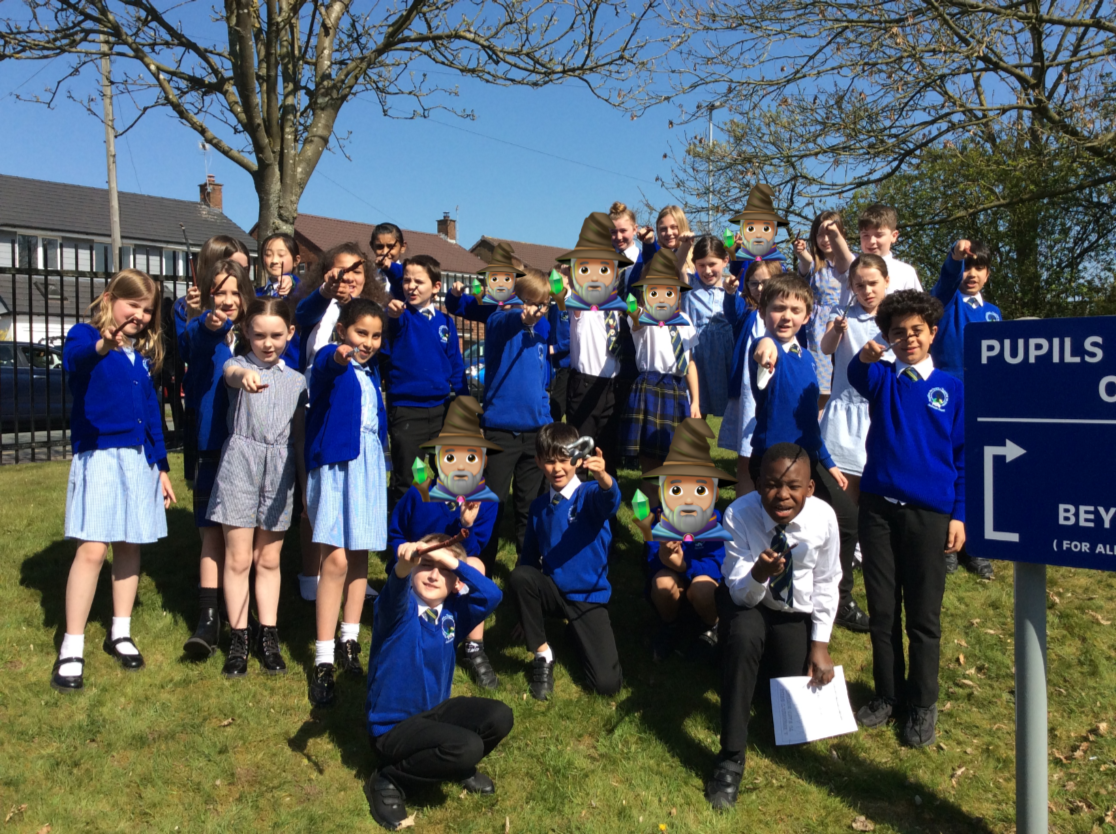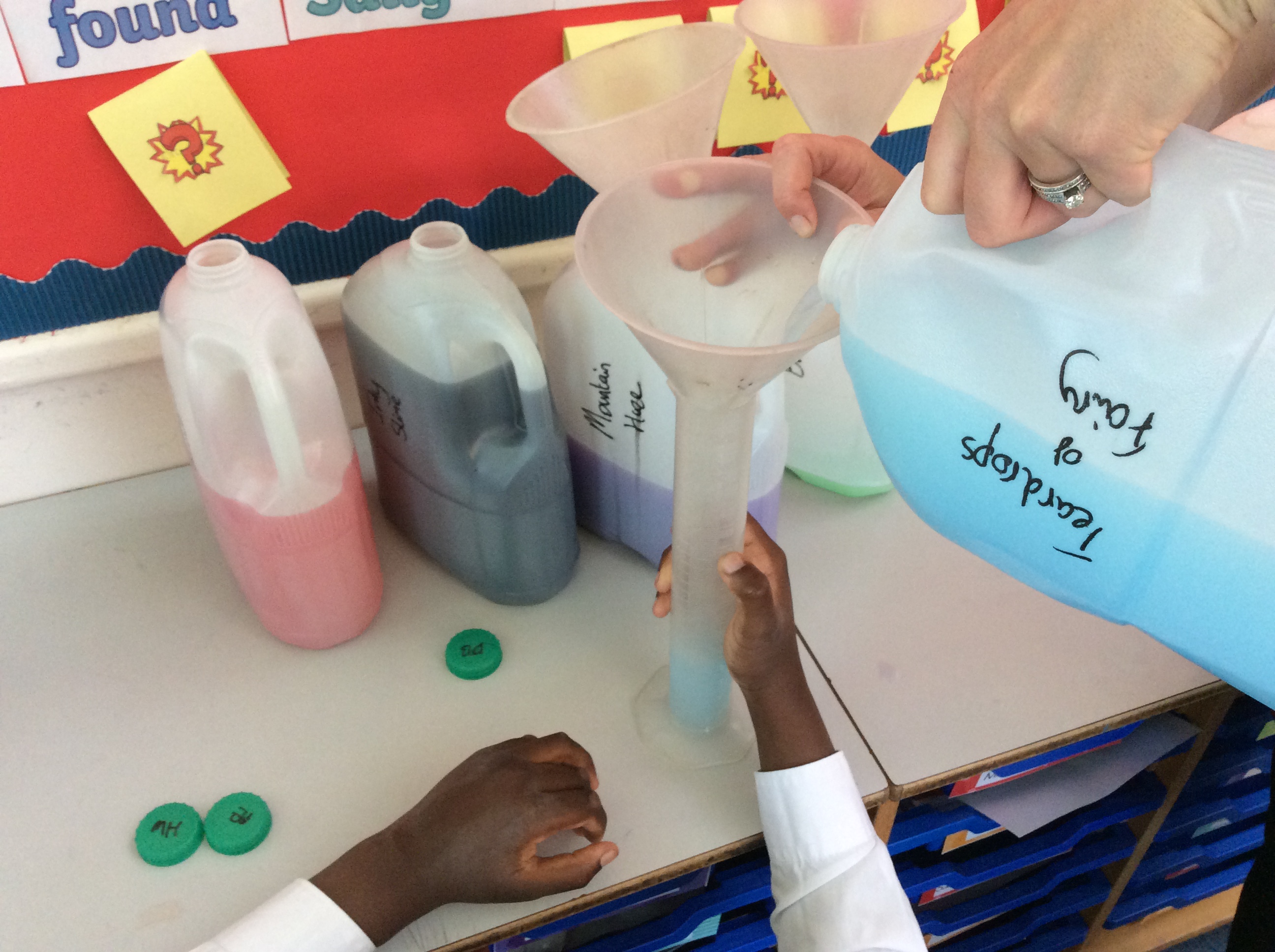 Spring Term 2021
Following our 8 week home learning stint through national lockdown, we are thrilled to have all of Year 5 back with us! It is evident how hard Year 5 have worked over the home learning period and we have been thrilled to see some of the fantastic work produced away from school. We have been away for what has felt like an eternity but we have certainly hit the ground running upon our return to school, diving into our new topic: 'Work like an Egyptian'.
This half term our class text is none other than 'Secrets of a Sun King' by Emma Carroll. New this year, the Year 5 staff have decided that this text is a fantastic addition to our curriculum and firmly roots our Egyptian topic in reading. The story follows protagonist Lil as she plans to return a cursed jar to Egypt in order to save her Grandad before it is too late! Year 5 are already heavily invested in the story, keen to find out what happens next and learn more about the Ancient Egyptian civilisation.
We have started our history topic this half term by identifying Egypt's place in history. Year 5 children have ordered and compared periods of British history to the span of the Ancient Egyptian civilisation for a rather breathtaking result. It's no wonder the Ancient Egyptians managed to build those pyramids with all that time on their hands.
Autumn term 2 2020
This half term marked the start of our space topic and a new class text: Cosmic by Frank Cottrell Boyce. Year 5 have been exploring the wonders of space and all things interstellar. We have investigated the shape of celestial bodies including Earth and explored the moon phases and day and night cycle in science while writing some of of this world newspaper reports about a mysterious rocket launch in English.
As part of an exciting new D+T unit this half term, children have been designing, testing and creating some innovative night lights. Year 5 have shown courage, collaboration and aspiration throughout the design process to ensure their night light were fit for purpose.
Autumn term 1 2020
Our learning this half term has focused on our topic of the Victorians. We have studied the Victorians in topic, learning about their place in history and how they have contributed to our lives today. Our reading and writing has centred around our first class text of the year: Cogheart. This tale of daring adventure and perilous mystery has inspired some fantastic writing from our Year 5 pupils.
Children got to experience a real Victorian classroom on our Year 5 Victorian day. Mr Rock, Mrs Thomas, Mrs Wood and Mrs Cooper all played their part (all be it rather strictly) in ensuring children had the most authentic experience as possible. The day consisted Reading, Writing and Arithmetic before trying some vocal gymnastics and drill (we think children may prefer Mrs Moores and Mr Williams PE lessons). A fantastic experience was had by all as the children showcased their fantastic costumes and proper etiquette.
September 2020
Welcome back! After a long time away from school for many of you, we are more than excited to see you all again. Some of you may be feeling anxious but rest assured that the first few days will be centred around settling back in to our routines and timetables. There will be some changes but these will be shared and explained to ensure that we are all comfortable with the new procedures.
Much of our learning for the first two weeks of term will be focused on a book produced by UNICEF, "For Every Child" which focusses on the rights of the child in words and pictures. From this, pupils from across the whole school will produce artwork and written pieces inspired by the book with the aim of transforming our displays and celebrating the children's collaborative efforts.
---
---
Useful Links
BBC Bitesize KS2 - English, Maths and Science videos, games and more.
Spelling Frame - A simple website for practising the Year 3/4 and 5/6 spelling lists.
Espresso Learning - A site school has bought into; see your teacher for your login.
Compare4Kids - Some free activities, including Year 6 SATs 'online boot camps'.
Sumdog - Online maths games. Please see your teacher for your login.
Parkfields Links - Links to a raft of helpful sites for revision.
iXL Maths - a subscription site, with limited free activities. Great for focusing on specific maths skills.
Clarity Maths - A site with links to old style Key Stage 2 Maths Papers, Maths Tutorials as well as Maths Games. Some of these games are linked to Memory and would therefore help pupils to retain key information.
Mad4Maths - Click on "For Kids" to access some fun games to practise speed of recall of times tables.
Crickweb - A range of English games and activities.
KS2 Literacy - Activities to reinforce and practise a range of spelling rules.
Spellzone - A range of activities and games to practise a range of spelling rules and patterns.