6R
Welcome to Year 6, 6R.
Welcome to our page and thank you for visiting! Here, find out what 6R are up to, view some of our amazing work and keep up-to-date with notices and dates important to our year group.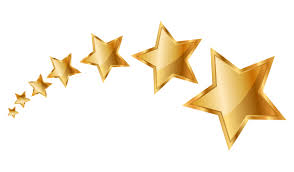 Please use these clickable links to navigate our page.
What's New? / Important Information / Useful Links
Note for parents: Please note that 6R now have P.E on Monday afternoons with me or Miss Sylvester, and on Friday afternoons with Mrs Moores. They require both indoor and outdoor kit. As the better weather (hopefully!) draws out, please provide children with suncream and a hat for P.E lessons and playtimes, and if possible ensure they have a refillable water bottle in school with them every day.
---
What's new? 27/6/18
What a busy time we have had over the last month or so in Year 6!
The children did us all hugely proud in their SATs, and have been rewarded for months of solid hard work with an exciting post-SATs curriculum. We have been involved in Virgin's Make £5 Grow enterprise project, and our much-anticipated Enterprise fair takes place this Friday. We look forward to seeing lots of eager parents there, ready to help us boost our profits in order to make our end-of-year party the best ever! Further details of our Summer term learning is described below:
Forest Schools Day
The Friday after SATs were completed, the children enjoyed a whole day of Forest Schools to reward them for their hard work. Activities included den building, making crests, making souvenirs from clay, drinking hot chocolate and eating marshmallows and of course, playing forest school games. The children had a really enjoyable day and the experience helped us to gain some great writing, as well as focussing on our school value of collaboration.
Science
Science is not currently assessed by a SATs test and a teacher assessment also needs to be submitted for this subject. We spent a significant amount of the summer term ensuring that the children are secure with not only the year 6 objectives that need to be covered, but also other areas of the key stage 2 programmes of study. For May's 'Outdoor Learning Day' we enjoyed a scientific investigation linked to Darwin's evolutionary theory of adaptation; the children were trying find out which 'bird beak' would best suit the types of 'seeds' they were trying to collect.
Topic
Our topic this term is Groovy Greeks. After a very busy summer 1, we have lots still to cover! We made Greek statues by crafting some soap sculptures, created Top Trumps cards for various Gods and Goddesses, and had a hilarious morning creating movie trailers for the story of the Trojan horse.
Enterprise
As part of our maths lessons this term, the children have been completing their enterprise project in association with Virgin Money – Make £5 Grow. During week 1, the children learned what it is to be an entrepreneur, looking at real life examples and case studies. The children reflected on their own personal attributes and skills and were distributed into groups based on these. During week 2, the children formulated some initial ideas and completed market research to see if the school community would buy their products. They began developing their business idea and identity by forming a company logo. During this week, the children also planned their pitch to the PTA to persuade them to lend each child £5 (approximately £30 a group) as a start-up cost, which the children will pay back at the end (if they make a profit). In Week 3, the children learnt about finances and marketing. They designed a business plan that will hopefully ensure a profit, and recorded a television advert as part of their marketing campaign. The final week is all about buying the resources needed to make their products and design their stall. At the end of the project, the children will carry out their enterprise fair to their parents and classes in KS2. Fingers crossed we all make a profit so that we can put it towards our year 6 leavers' afternoon!
Bikeability
On the 2nd and 3rd of July the children will be taking part in Bikeability, where qualified instructors will deliver training on cycling proficiency. The children will take part in a real life cycling experience where they will gain a comprehensive knowledge of positioning, signalling, negotiating at junctions and general road safety awareness. The aim is to ensure that they can deal with traffic on the roads when completing their own short journeys.
Tread
This year the Year 6 production will be produced and directed by an external performing arts company called 'Tread'. Graham Tudor, who will be leading the production, has acted as Joseph in the West End and has a wealth of experience. From the 9th - 19th July the company will be with us in school and will put the whole show together in less than two weeks. The title of the show is to be confirmed but we have started practising a few songs in preparation – let's just say there has been a lot of hair flicking!
Ahead of the final few weeks, we have an incredibly packed timetable. Listed below are some dates for your diary. Note that during the final two weeks TREAD is in to put together our end-of-year performance entitled 'Magic from the Musicals'. During this time, children should come to school in their P.E kit.
w/c 25th June – Sex and Relationship Education session
29th June – Enterprise Fair.
Parents to arrive at school for 9:20am through the after school club doors.
2nd and 3rd July – Bikeability
Pupils to come in PE kits on these days and bring their bikes/helmets to school.
12th July – Walton Transition Day
(Pupils not transferring to Walton should be in attendance at Leasowes)
13th July – End of Summer term disco
16th July – Leavers' lunch: Y6 children have decided their own menu
18th July @ 6:30pm - Leavers' performance 1
(Doors open at 5:45pm for refreshments)
19th July @ 6:30pm - Leavers' performance
(Doors open at 5:45pm for refreshments)
20th July @ 9:00am - Leavers' assembly (Parents to attend)
20th July afternoon – Leavers' BBQ (Children only - they should come to school on their last day in full school uniform, but may bring a change of clothes for the party in the afternoon).
As we come to the end of the year, we would like to thank parents for all your support throughout this year. The children certainly appreciate it, as do we.
Thanks,

Miss Reeves and Miss Sylvester.
---
11/5/18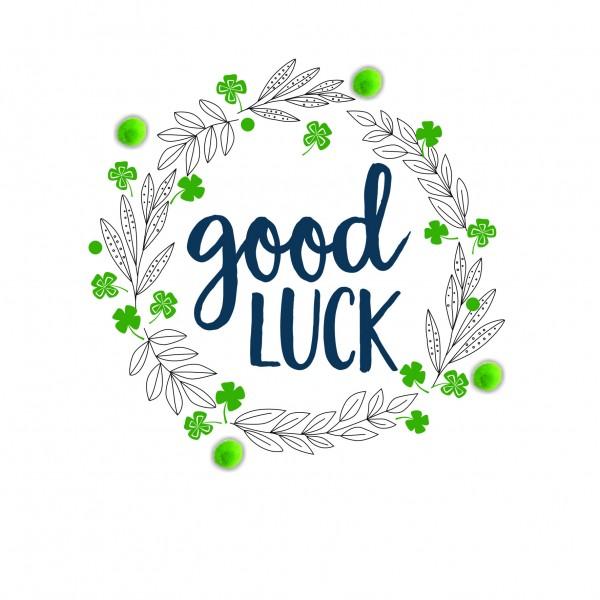 A quick note from us both before the weekend...
Year 6: You are ready. You have dazzled us (and the other children, and staff, and everyone else!) with your perseverance, tenacity and intelligence up to this point in the year. You've worked so hard and - despite being ready weeks ago - are now ready to show off and enjoy all of the success that awaits you after so much focus. We are incredibly proud of each and every one of you. Spend the weekend relaxing and resting, and we look forward to seeing you on Monday morning - whether that be for a munch at breakfast club or a short while later.
Well done again,
Miss Reeves and Miss Sylvester.
---
Hi all! Just a quick update on the class page to let you know how brilliantly Year 6 have been working as we begin our final term at Leasowes! As I'm sure you're aware, SATs are approaching, and the children have been working their socks off to prepare themselves for the round of assessments and really show off their learning from Key Stafe Two. Last week, they completed a full mock-style week of assessments, which we all agreed was a great way to get children over the initials oh-goodness-I-am-sitting-in-the-Hall-and-it's-really-big-in-here nerves.
Away from the preparation for our assessments, we have been enjoying some brilliant learning. In our first week back, we shared our topic boxes with KS2 in a sweltering afternoon - children learned how large the biggest blizzard ever recorded was, got soaked learning about flooding and volcanoes, and enjoyed looking at the amazing outcomes from our Survival topic. Here is a small selection: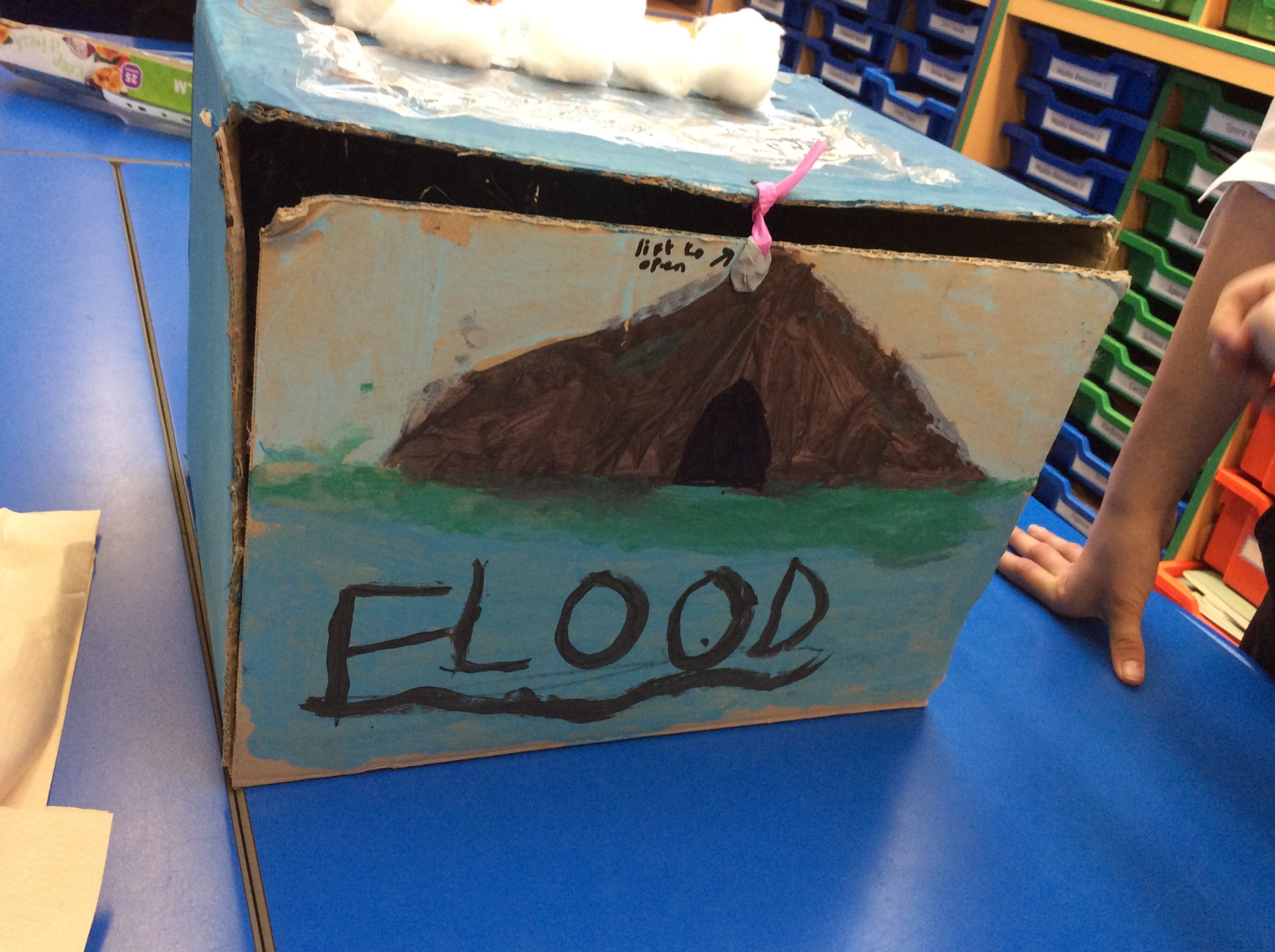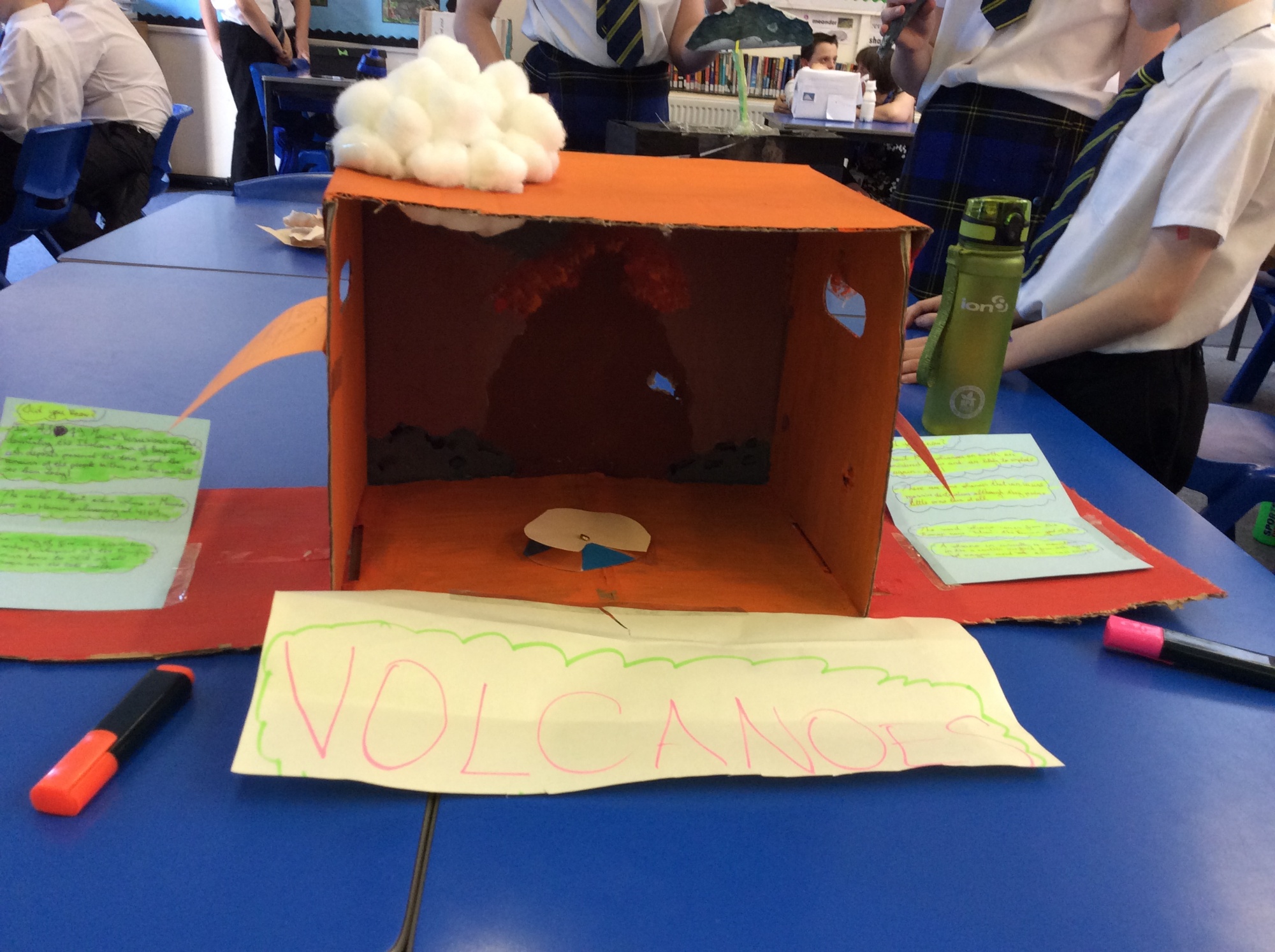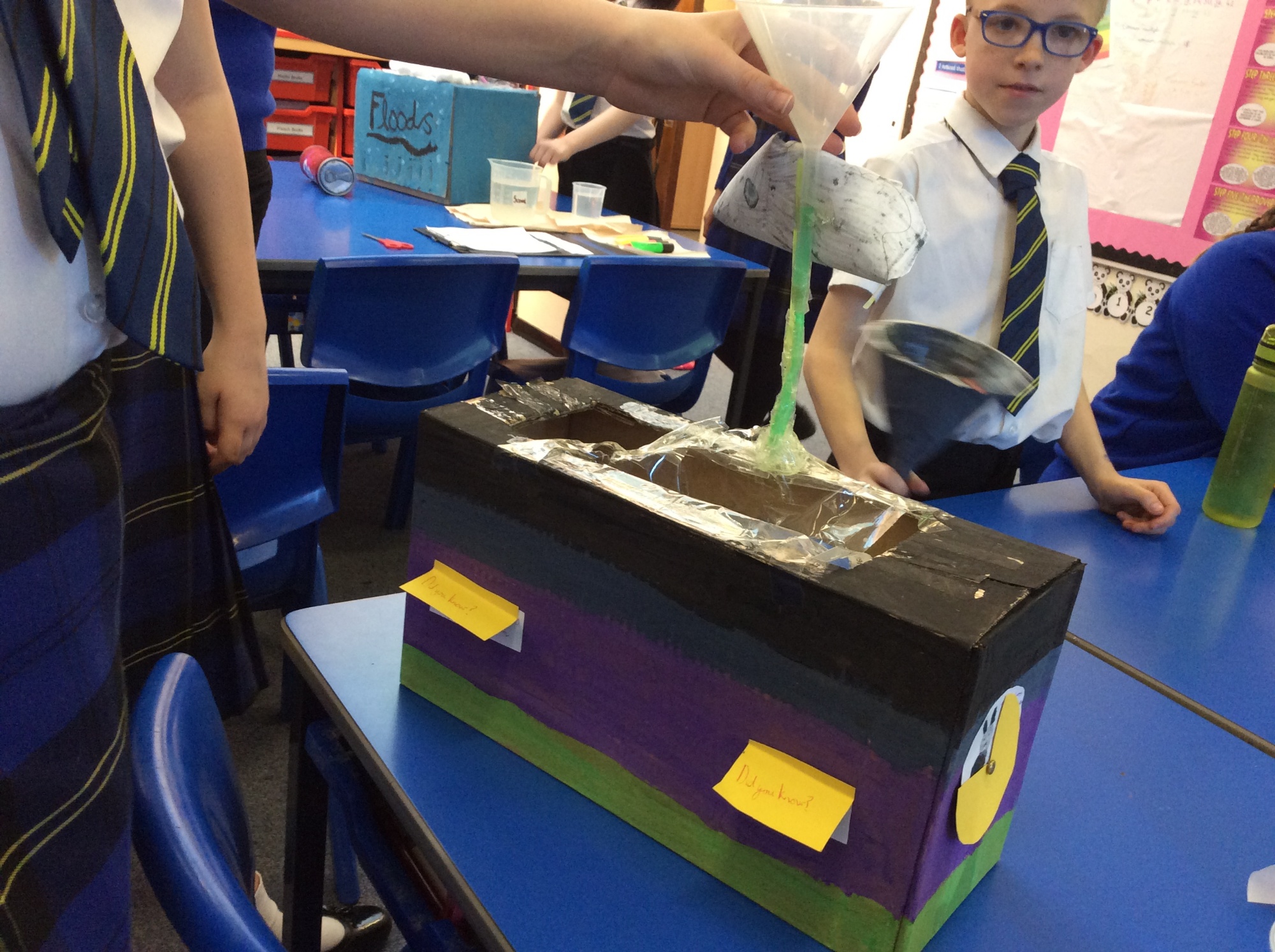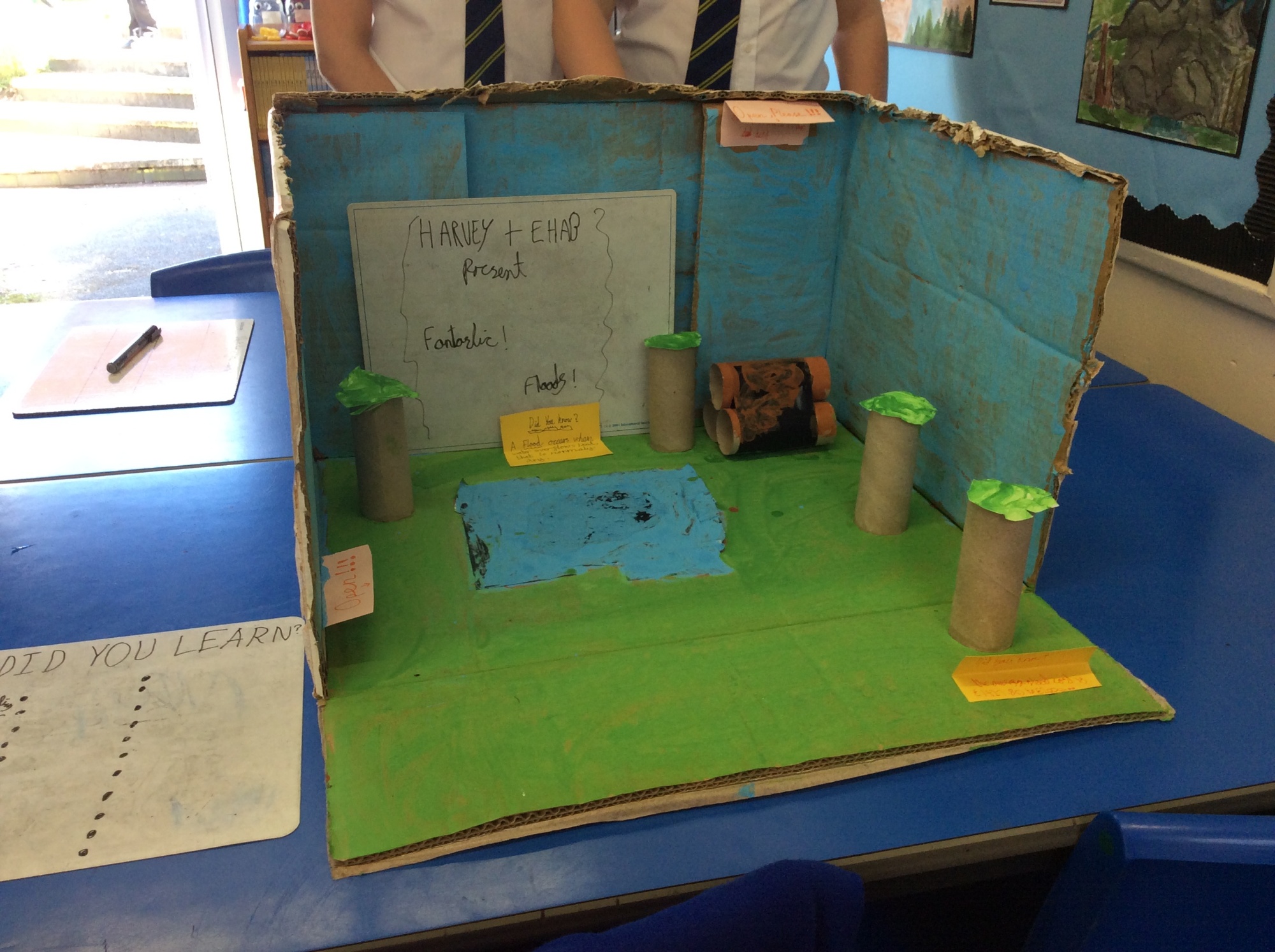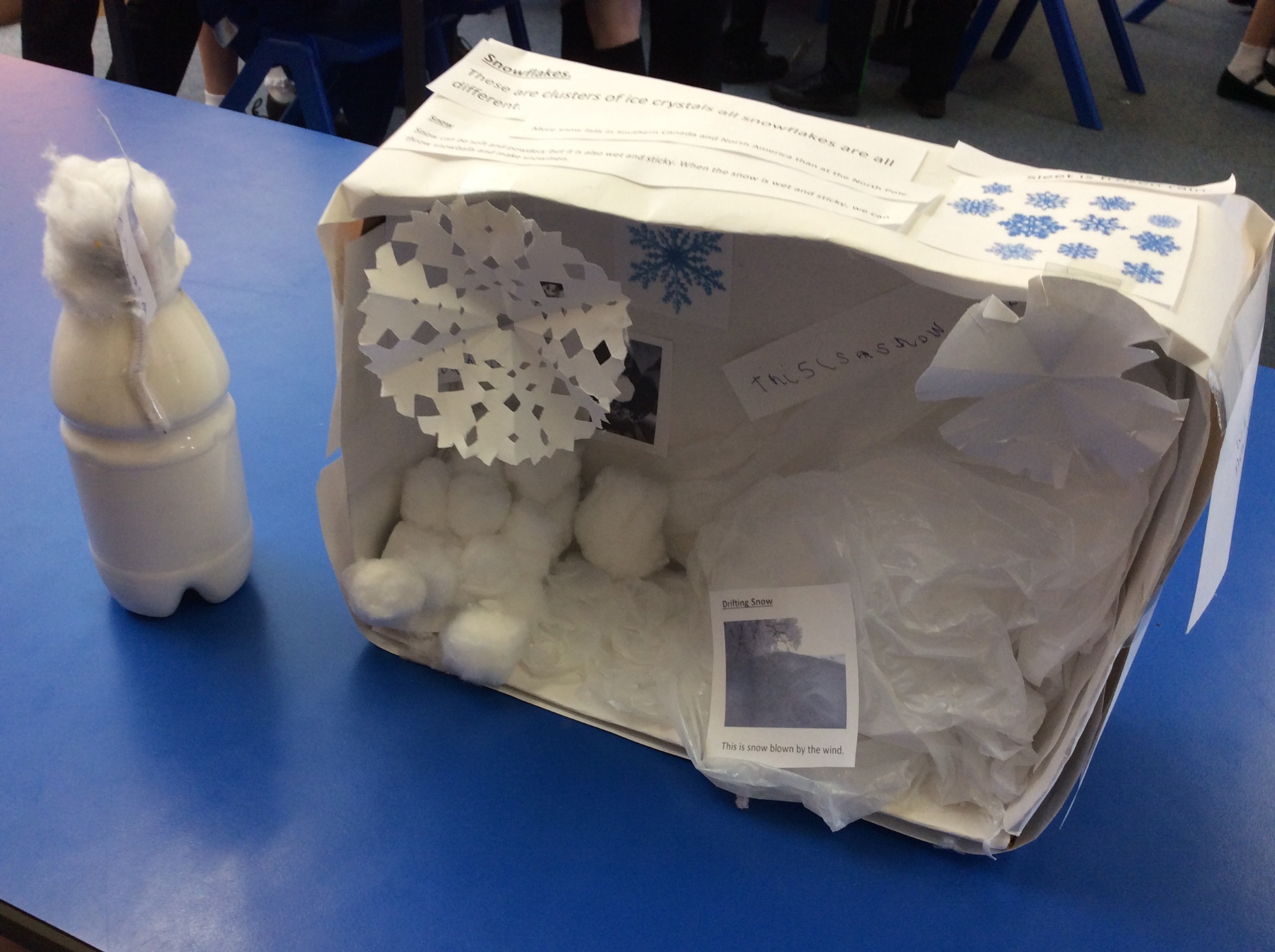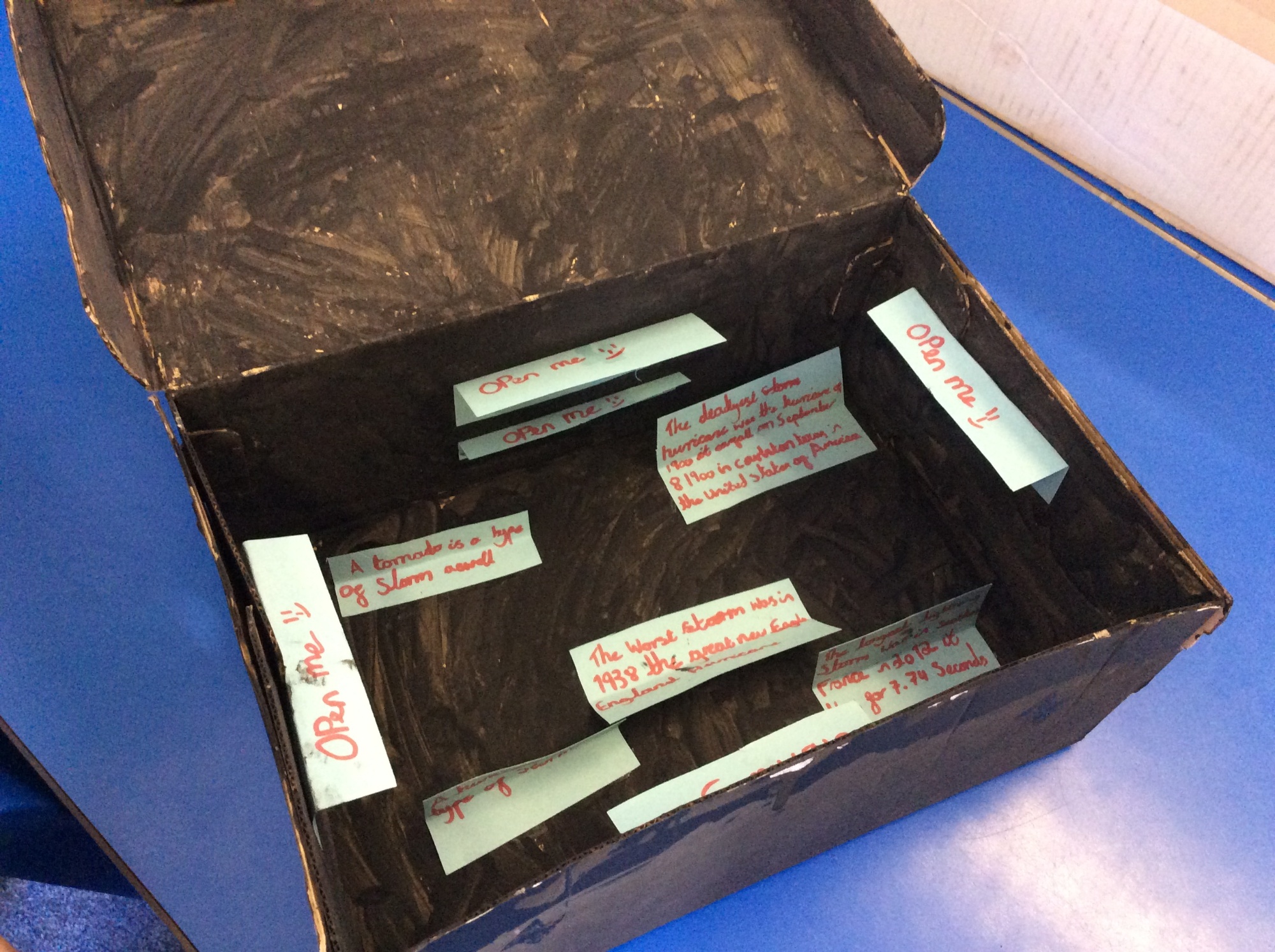 We've enjoyed some wonderful weather so far this term, and have got ourselves outside during our P.E lessons to play some rounders. Our aim and confidence is slowly improving, and it's been great to get outside for a run around, too!
Please note that the final revision club took place this week, as due to the Bank Holiday next week, there will not be another. Thanks parents for all of your support on the run up to your child's assessments.
Miss Reeves.
---
Easter Homework
There will be no formal homework for the Easter holidays. However, should you wish for your child to complete any revision, they can access a range of materials and resources via our Parent News tab in the Parent Secure Area.
Username: parent
Password: leasowes
If you click into the Year 6 area, you will find arithmetic, reasoning, reading, grammar, spelling and TT38 times table practise.
We hope that you find these useful and have a lovely Easter,
Miss Reeves
---
What's new? 27/3/18
Hi again! This is our final update of the Spring term! I can hardly believe we are at the point where we are two-thirds of the way through the year! Before we know it, Y6 will be spreading their wings and heading on the pastures new. The good news is that they'll be ready: they've been working their socks off the past few weeks!
In Writing, we have been working hard over the last three weeks to create holiday brochures for a ski resort, 'Snowvale'. I'll be the first to admit I prefer the beach or a city break to the slopes, but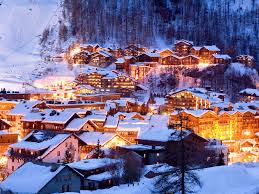 some of the writing is so incredible that even I might be persuaded! Children have studied current brochures (thanks, parents, for your help in sending them in) and used them to pull our persuasive language and non-fiction layout features. I've been enticed by talk of thermal igloos, platinum-star suites and even a luxurious spa! Hopefully, we can steal some display space around school so visitors can see the incredible work produced by Y6.
In our maths sessions, we have been working hard to improve our reasoning skills by revisiting tricky areas, such as area, perimeter and volume, as well as angles, through real-life problems. Our confidence is improving and we're able to practise our arithmetic in order to try and solve the problems. We're working brilliantly and with such determination!
The real star of the show at the moment, however, is our topic work. A few weeks ago, we worked in groups to plan topic boxes that aim to teach our peers in KS2 what we know about natural disasters. Some of our plans were very ambitious: water-filled boxes for tsnamis, paper mache volcanoes and even a box showing a blizzard! Last week, we made a start on making them in a messy afternoon and we aim to complete them this Thursday afternoon so they can dry and be amazing by our return in the Summer term.
What a half-term is has been! We have got through so much in such a short amount of time.
Enjoy your Easter break, Y6, and see you on the other side!
Miss Reeves.
---
22/3/18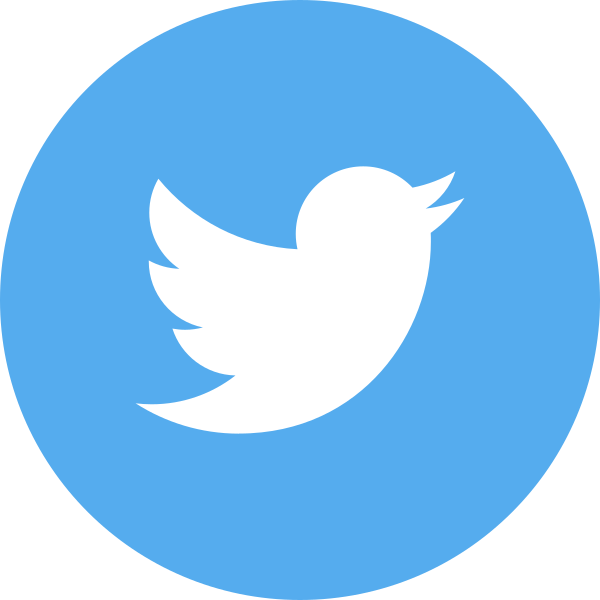 Big news! Twitter has landed at Leasowes. Miss Leonard has been working hard behind the scenes to set up our school's first twitter page, with the handle @LeasowesPrimary. Y6 and staff have already tweeted several times, updating you on what we've been up to, including World Book Day, book recommendations and an insight into what we are doing on our afternoons - it is a bit messy! Please do follow us, as we are hoping that ultimately twitter can be used as an instant-update sharing platform for the school. For the moment, no pictures or children's names/group names (other than classes!) will be shared. In September, new permission notes will come out to allow parents to choose whether their child can appear on our school social media.
Otherwise, thank you for your support at Parents Evenings this week. It is a pleasure to share the children's successes with you.
Miss Reeves.
---
27/2/18
Hi everyone and welcome back to Spring 2! I can hardly believe how quickly this year is flying! We are now officially over half way through the academic year and Year 6 have been thinking especially about how this term's value Aspiration will serve them well in what will be a busy and important few weeks.
Despite the excitement of yet more snow, Year 6 have come back eager to learn and get on with things. In Maths, we have spent the week focusing on revision of the four operations - you could have heard a pin drop in my classroom as they beavered away at some tricky mutliplications this morning. In English, we are coming to the end of our unit looking at 'Eye of the Storm' from the Literacy Shed - a deliciously spooky and strange animation, where children have been able to let their imaginations run wild as they begin to try and come up with what could happen to our mysterious airship navigator as he enters the eye and reaches the other side.
Take a look and see what you make of our mysterious character and his activities aboard his airship...
In topic, we are starting to tie together all of the learning we have done in our Survival topic to create amazing interactive topic boxes to showcase to the rest of KS2 at the end of the term. We have some pretty ambitious ideas, and Miss Reeves only had to tell one group they couldn't use an electrical circuit and water in theirs, so so far, so good! This half term is shaping up to be a really interesting, busy and hard-working one!
Some dates for your diaries...
Every Monday from 3:20pm-4:20pm Y6's optional Rockin' Revision club runs. We have had brilliant attendance the past few weeks and the children have been working ever so hard. Keep it up, Y6!
1st March is World Book Day. We will be doing some amazing work all day, which we hope to share on our class page. Children are invited to come to school in pyjamas in keeping with our Bedtime Story theme, or else come dressed as a book character.
21st and 22nd March are our Spring term Parents Evenings. Details regarding appoinment booking will be going out in the next couple of weeks. If you have a specific query, don't hesitate to contact me before these meetings as with only 10 minutes per slot, time can get tight!
Our last day at school before the Easter break is Thursday 29th March (the Friday is Good Friday) - time will soon fly!
Thank you as ever for your support. Please remember I am available for any queries at c.reeves@leasowes.staffs.sch.uk or at the gate each night after school.
Miss Reeves.
---
31/1/18
We have made it through January! What a month it has been as Y6 get used to being in their final (calendar!!) year at Leasowes. I hope that 2018 will bring them all the success and enjoyment they deserve.
We have been enjoying our topic, Survival, throughout our English lessons and in afternoons.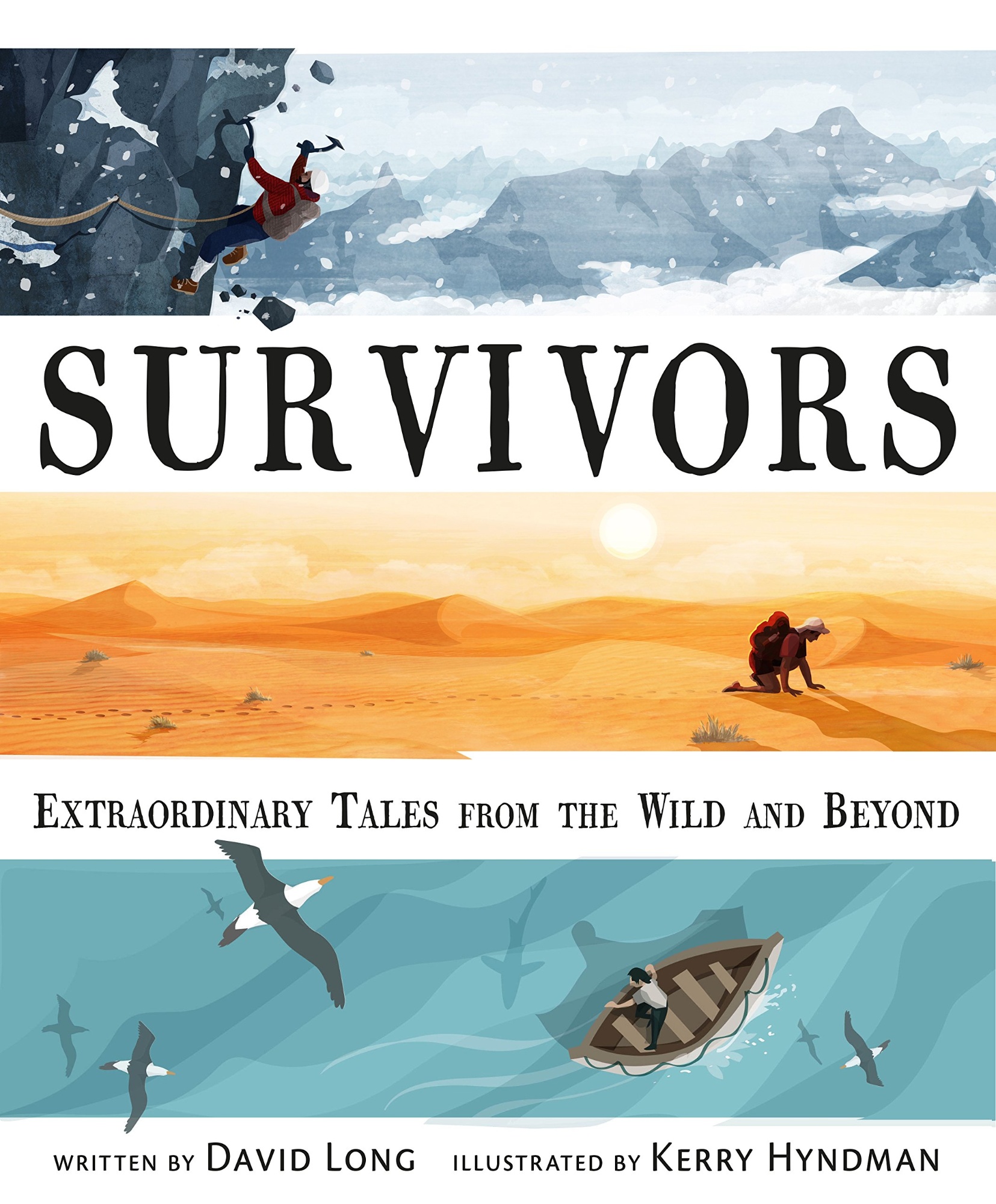 We have been basing our writing on David Long's book 'Survival' which tells the remarkably true stories of people who have lived through amazing things. This week, we completed innovations on 'The pilot who crashed inside a volcano' and read stories including 'The girl who fell from the sky' and 'The canyoneer who cut off his own arm', which is the true-life story that the film 127 hours is based on. Next week, we will be writing, editing and publishing our own survival stories. If the innovations are anything to go by, I am in for a real treat in reading them!!
In Maths, we are nearly at the point where we have covered the whole Y6 curriculum(!!) ahead of revision. We've been tackling really tricky subjects like coordinates and this week, pie charts. We are aware that these areas of the curriculum are challenging, so please do encourage your children to come and see us if they need further support with their homework.
In Topic, we've been learning about a range of different climates and extreme disasters that people have to survive through like tsunamis, earthquakes and tropical storms. We're looking forward to doing some amazing work based on this - remember to look at our Survival flyer located at the bottom of the page if you want a sneak-peek into our plans!
Please remember that this Monday coming, the 5th February, will be the first Rockin' Revision club. This will take place from the close of school to 4:20pm. Children are invited to bring a snack and a drink, and any revision materials they may have. The deadline for ordering CGP revision guides is Friday (2nd February), and we are anticipating that the guides should be with children in time for the revision section.
As ever, please feel free to email me or catch me on the gate if there is anything I can help with.
Thanks for your continued support,
Miss Reeves.
---
23/1/18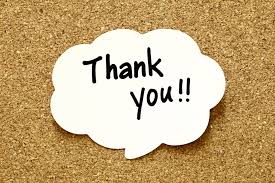 Thank you, parents, for your attendance at yesterday evening's SATs information evening. We hope it was informative. If you didn't have chance to come along, we will be sending packs home with children tonight with all the details given out, including permission slips for the upcoming Rockin' Revision club, and details about the assessments and what they entail.
If you have any further questions, please catch myself or Miss Sylvester on the gate at the end of school. Alternatively, feel free to give the office a call or email me at c.reeves@leasowes.staffs.sch.uk .

Thanks as ever for your continued support,
Miss Reeves.
---
12/1/18
Year 6 are now well and truly settled into the new half-term, and have been working exceptionally hard this week as they make their way through a batch of former SATs assessments. While our mornings have been focused on this, we have had lots of fun in the afternoons, kicking off our brand-new topic 'Survival'. Please find our new topic map below, as well as a PDF copy for download at the bottom of the page. We have also started our unit in P.E with tag rugby, and I'm really looking forward to the children having an opportunity to practise their leadership skills by largely teaching the lessons themselves! Thanks to Mrs Moores again for all of her efforts in making sure that the children can be successful in this.
Please note, this week some letters regarding the 22nd January SATs information evening have gone out, together with a letter for the purchase of SATs revision guides. These are available for download in the 'Letters Home' tab if yours have disappeared.
If you missed it, please read the post below that gives information about this term and the beginning of this calendar year in Year 6.
Miss Reeves.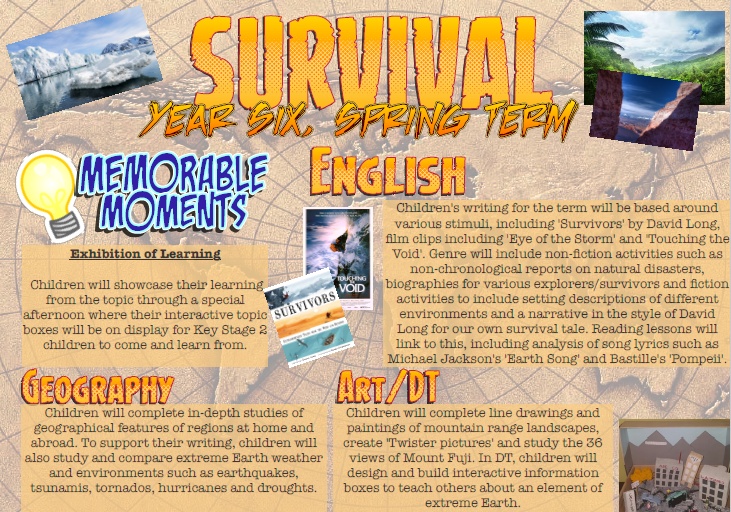 ---
4th January 2018
Welcome back everyone, and a Happy New Year to you all. I hope everyone has had a lovely break.
Year 6 have a busy busy term ahead of them, where teachers will be expecting them to knuckle down and really start to show everyone what they are made of! This morning, Mrs Bettany and Mr Coombs talked to us all about the importance of a brilliant learning attitude as we head towards the end of our journey at Leasowes, which is now this calendar year! I am sure that we can all build on the excellent foundations we have laid already to ensure that not a minute is wasted as we settle back into school.
Finally, can I issue a further plea to encourage your child to read regularly at home. All children have access to The Reading Cloud (information under the Learning for Life tab) and have the opportunity to have a reading book from here. Please have them record the book and the pages they read each night in their reading record and sign weekly.
As ever, please feel free to catch me at the end of school or through email if you have any questions.
Miss Reeves.
** New website for helping with the KS2 spelling element of the grammar test**
Children can select either the 5/6 word list or the 3/4, listen to them, hear them in the context of a sentence (as they would in their end-of-key-stage assessments) and then type the word in to test their spelling knowledge. Children can sort by spelling pattern e.g. focusing on words ending in the /shun/ sound (-cian, -sion, -tion and so on), sort alphabetically or focus on one specific area, like homophones. Have a try at home! There is also a link at the bottom of the page in the 'useful links' section.
---
8th December
It's the most wonderful time of the year!
Over the last few weeks, Y6 have continued to work hard throughout all of their learning. We have been completing some beautiful writing based on 'Once' by Morris Gleitzman, and this week we have completed diary entries based on Anne Frank's diary. In Maths, we've been back to everyone's favourite, fractions, and showing that actually we can do anything we set our mind to with a bit of courage and hard work.
In the afternoons (and any other spare moment, of which there are few!!) we have been preparing for all the wonderful things we have planned for the coming weeks. Year 6 have been busy learning words for the Christmas Carol Concert, which will take place on the morning of Monday the 18th December. Look forward to some traditional carols and some more modern recognisable Christmas hits. We have also been preparing for our Family Learning afternoon next Friday the 15th December. Some children have been practising a dance that has been choreographed by Mrs Moores and it's looking really good! Others will be coming home with words tonight to learn for a series of short plays. It promises to be a lovely afternoon - so long as the snow holds off long enough for us to have several afternoons of preparation next week!
Please note that as we draw closer to Christmas, there are several special changes/days of note. On Wednesday next week (13th Dec) we have a full day of either English or Maths - the children will choose - as part of our celebration of both these subjects in conjunction with the School Council. Further, children are invited to wear their Christmas jumpers on Thursday 14th for their Christmas dinner, and again on Friday 15th for the official Christmas Jumper Day to support Save the Children. However, please be aware children are expected in school uniform for the rest of their outfits! The following week, on Monday is our Carol Concert (children are to wear full school uniform) and Tuesday (the last day) will be the usual activity morning as a reward for excellent behaviour this term. PHEW! Busy busy!
If I don't see some of you now ahead of Christmas, have a magical time and see you in the new year.
Miss Reeves.
---
17th November
What a week we have had!
Year Six have been as busy as ever this week, packing in lots of new learning; it feels like we have hardly stopped! In English, we have been watching an animation called 'Germans in the Woods' that recalls a former soldier's worst day of war. The emotive and figurative language we have generated and practised with has made our narratives absolutely amazing.
In Maths, children have been getting to grips with geometry. We have looked at different types of angles, and remembered how to use protractors to accurately measure and draw angles. We then applied our learning to draw some difficult 2D shapes. Well done especially to Ellie B, who very nearly drew an absolutely accurate regular pentagon - seriously difficult learning there, Ellie! On Wednesday and Thursday, we focused on calculating angles, first in triangles and then in quadrilaterals.
We've been learning the -cious/-tious suffix in our spelling sessions, and learning that there are rules that can help us identify them. On Thursday, we had lots of fun running around the playground sorting words into 'real' and 'nonsense' words, deciding whether 'infect' would become 'infectious' or 'infecious' and reasoning why. We even had a go at writing tricky sentences using the correct spellings in chalk on the playground. Have a look at tour photo gallery for that lesson on the tabs on the left of this page (or at the bottom if you are viewing on a mobile device).
One of the class (and yes, I do know who this was - be very afraid!) was even so kind as to write a sentence about me...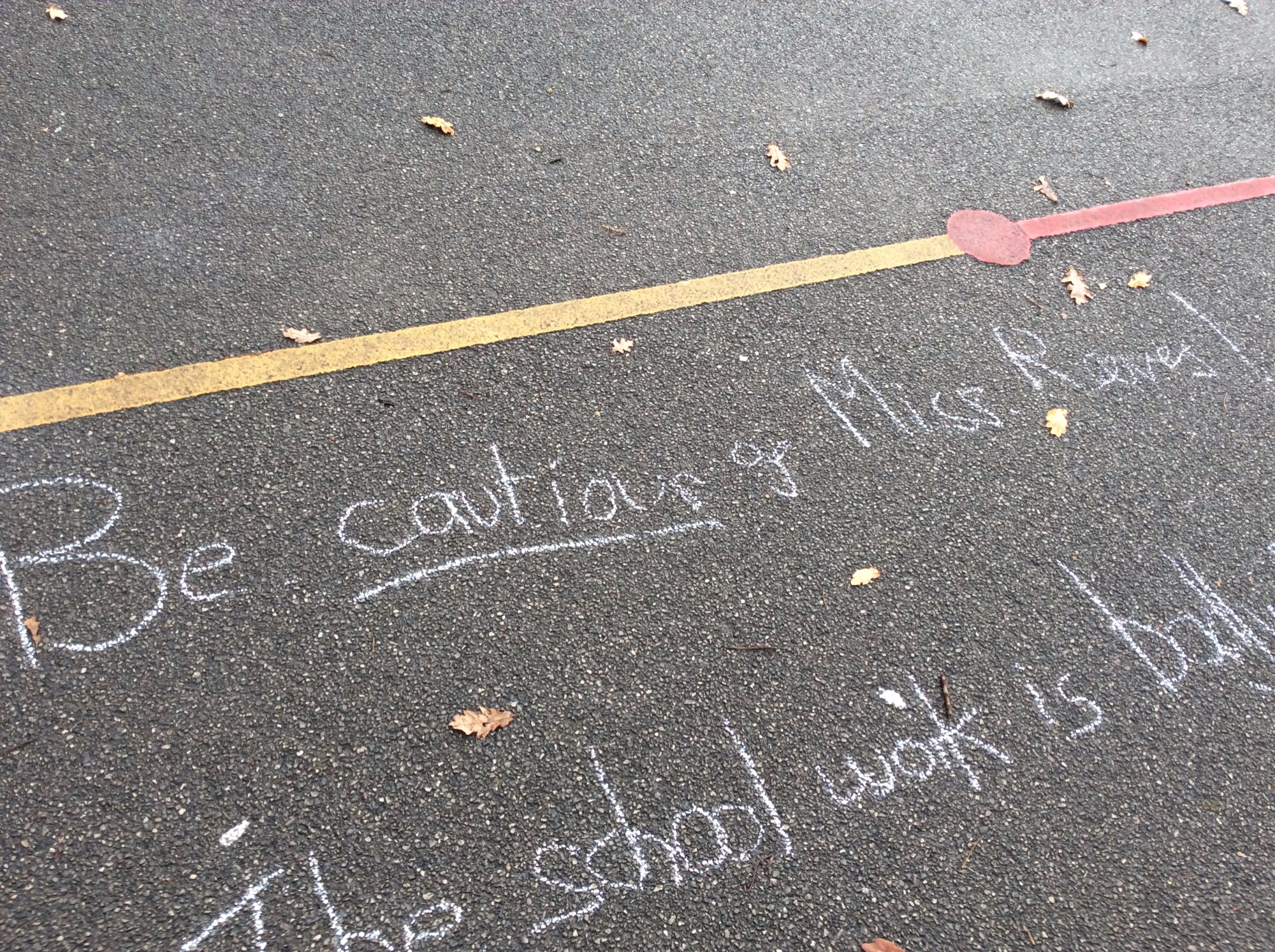 A real highlight of the week, however, was our topic lesson. On Wednesday afternoon, we were beavering away, looking at some source images showing Britain during the Blitz - we were trying to understand how it would feel being a child growing up that sort of chaos. Suddenly, an air raid siren went off! We were told to get under the tables and wait for the all clear. When we were allowed to emerge from under our desks, we were told it was no longer safe for us to remain at school and we were being evacuated! We grabbed our things from our lockers, took a luggage tag with a number on it and promptly set off on our journey to Malvern in Derbyshire (or, 5 laps of the playground!) There, our billeting officers - Miss Reeves, Miss Sylvester and Mrs Hopley - were waiting for us. Depending on the number on our tags, we were billeted to the church hall, village hall and local community centre. Once there, we examined our luggage tags and found we had each been given a role. One example was Richard, whose evacuation experience was really positive: he loved the big fire in his house and all the cooking and baking he was allowed to do. Through discussion with the other evacuees, we noted that not everyone's experience was as positive. Some children were beaten by their foster families, others were forced to do unpleasant chores, and almost all of them missed their families terribly. We used this knowledge to create a double page information spread in our topic books about evacuation. What a brilliant afternoon!
As we approach the weekend, please note that our Condover Hall celebration evening is taking place on Monday, 20th November from 5:15pm in the Key Stage 2 Hall. Entrance will be through the Y4/6 corridor. We look forward to seeing many of you there!
As ever, please speak to me if you have any questions.
Miss Reeves.
---
30th October - 3rd November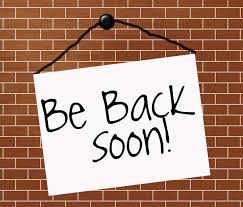 This week, Year 6 are enjoying themselves at JCA Condover Hall.
We will be focusing on team-building, facing fears, mastering new skills and showing all of our Leasowes values in action, specifically Enjoyment, Courage and Collaboration. We hope you're looking forward to sharing our fun when we return, but in the meantime, scroll down through everything we've already been up to this year!
---
20th October 2017
Hi everyone! I can hardly believe that we are already at the end of our first half term of Year Six! After a really positive set of parents evenings, it's lovely to celebrate the brilliant progress and outstanding achievements we have already had this year. Well done, team 6R!
As I reflect on the work we have done so far this year, there are so many things that stand out to me as being hightlights, but here are just a few:
Children begging for just 'one more word! One more sentence! One more paragraph' as we share Private Peaceful by Michael Morpurgo
Writing vivid descriptions of awful characters like Grandma Wolf
Writing amazing narratives about life in the trenches
Children showing all of our values in action as they settle into life as the role models of the school, especially during the recent House Captain campaigns
Getting to grips, and being successful, with tricky concepts in maths - especially long division!
Children genuinely enjoying their learning while in Year Six.
Long may it continue! I can hardly wait for what our next term holds!
We are all really looking forward to our Condover residential in the first week back. Copies of the medical form are available under 'letters home'. Please remember that children should come to school on Monday 30th October in clothes ready for Condover. See you then!
Please note: On the first day we return to school after Condover (Monday 6th November) it is our turn for Forest Schools - children will be bringing home a letter tonight advising parents of the procedures and what they will need. Mrs Bromley has kindly uploaded this to our class' letter page too.
We already have so much to look forward to after the break, but I'm sure we won't be wishing it away! Have a wonderful, safe and happy half term. See you soon!
Miss Reeves.
---
Outdoor Classroom Day, 12/10/17
Wow! What a day we have had today. We have been celebrating Outdoor Classroom Day, 2017! Mrs Wood coordinated an exciting day, beginning with an outdoor assembly for Years 1-6. Y6 had a fantastic day of...
Building reading dens from tarpaulins, ropes, natural resources and blankets
Crawling into the reading dens and devouring more of our core English text, Private Peaceful
Hunting around the outdoor area in teams to complete an Arithmetic challenge
Watching short videos of soliders going 'over the top' and cavalry charges from WW1, before creating dramatic short plays accompanied by percussion instruments.
We had a marvellous day, with all children heading back into the classroom to reflect on the values we saw in action all day. Some children even asked if they could return next year to do it all over again! See the gallery on the left of the page for more pictures. A fantastic day had by all.
Miss Reeves.
---
29/9/17
Welcome back everyone! We've had a busy week again, with Y6 tackling tricky long multiplication, writing positively Dahl-esque character descriptions off the back of our Private Peaceful topic, and even becoming reporters to write about the catalyst for the First World War.
Thanks all for your support in getting our new home-school record system up and running; it's lovely to be able to keep track of what children are reading at home. We've had a couple more of the #100books arrive, including A Library of Lemons, What to do When You Worry Too Much and more! Keep your eyes peeled for another batch in the coming week or so.
Finally, I'm delighted to share our Topic Flyer for this half-term. As a staff, we are continuing to design and improve our curriculum, so it is more exciting and purposeful for our children. From a Y6 point of view, Miss Sylvester and I agree that our topic of Conflict and Courage has really captured our classes, and I can't wait to share the rest of the incredible topic with you. A picture of the Topic Flyer is shown here, but please visit the bottom of the page to download of PDF document to have a look up close. We will share the flyers for our final two terms as the year progresses.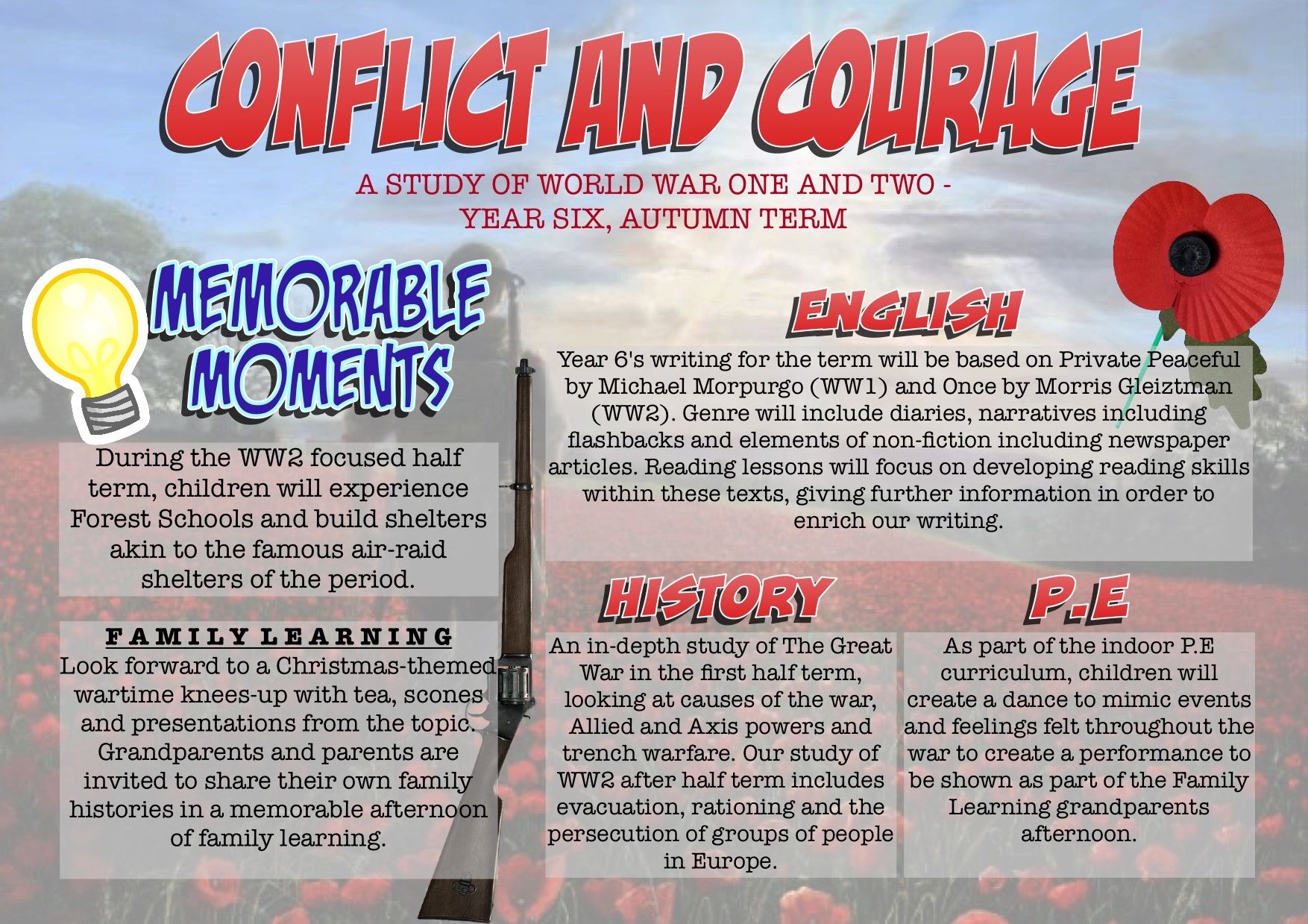 Thank you as ever for your support this week,
Miss Reeves.
---
18/9/17
What a Monday! We have come back to school this week a few down (these beginning-of-Autumn colds are wiping us out, including Miss Reeves, who has spent the day squeaking at us) but raring to go.
In Science, we have begun a tricky topic of "Animals Including Humans", with a special focus on our circulatory system. Last week, we concentrated really hard to name the different parts of the heart. Today, our focus was understanding the flow of blood through the heart and different blood vessels. We found out that arteries carry oxygenated blood from the heart to the lungs (to pick up oxygen), back through the heart and onto the rest of the body. Once the oxygen has been used, the deoxygenated blood (now carrying carbon dioxide) returns to the heart and then back to the lungs, using the veins, like this: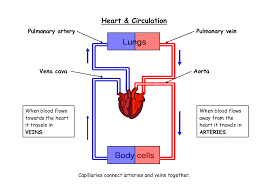 However, it is quite hard to remember! To help us remember, we headed outside onto the playground and working in groups to create a live demonstration of the blood flow. We videoed it to revisit later on. Can you spot in our videos who is playing the role of the heart, directing the blood? Who is the lungs, giving out oxygen? Which children are acting as the blood moving through the circulatory system? We came back into school able to recite far more of the system than we did before going outside.

Well done! Some great examples of scientific concepts being explained in simply, easy-to-understand ways! Great job, Year 6.
Miss Reeves.
---
15/9/17 - Writing Celebration
This week and last, we have focused all of our reading and writing lessons on a picture booked called "Journey" by Aaron Becker. Simply, the book tells the story of a young girl who owns a red crayon which, when drawn with, created real-life objects. The girl crawls through a door into a magical world and gets drawn into a mission to save a mythical bird.
In 6R, we have done a lot of work around the text using our Talk 4 Writing techniques, which involve learning model texts through creating story maps and practising actions to retell it. We also innovated on this learned text before using what we had learned to create our own narrative for a portion of the story where our heroine duels with some guards to reclaim the bird. We are all hugely proud of our achievements.
On Thursday evening, our teachers worked after-hours to transform the KS2 site. Our artwork and writing went up for everyone to see, and so many of our jaws dropped on Friday morning when we saw it all! Here are some highlights of what school looks like now: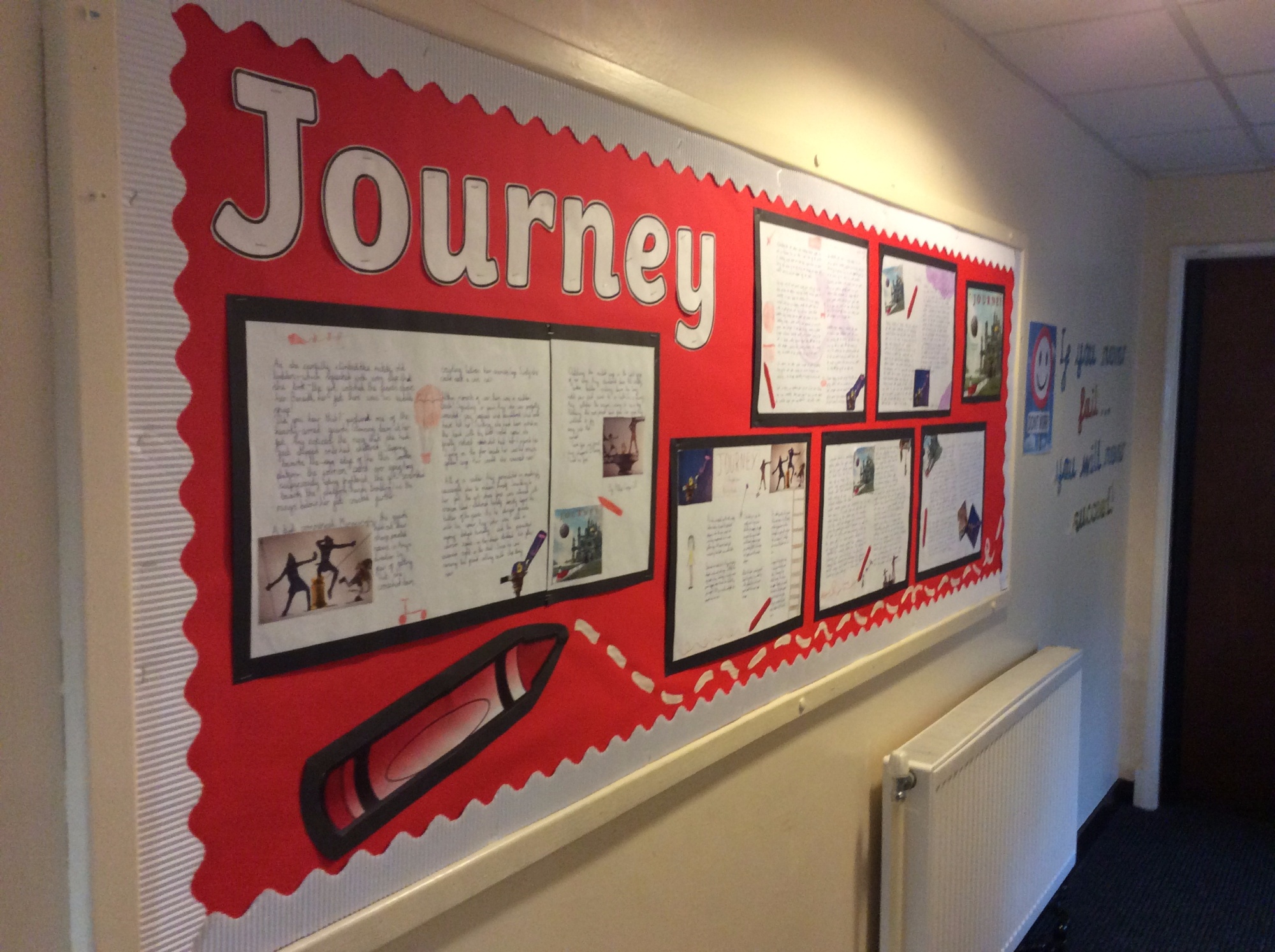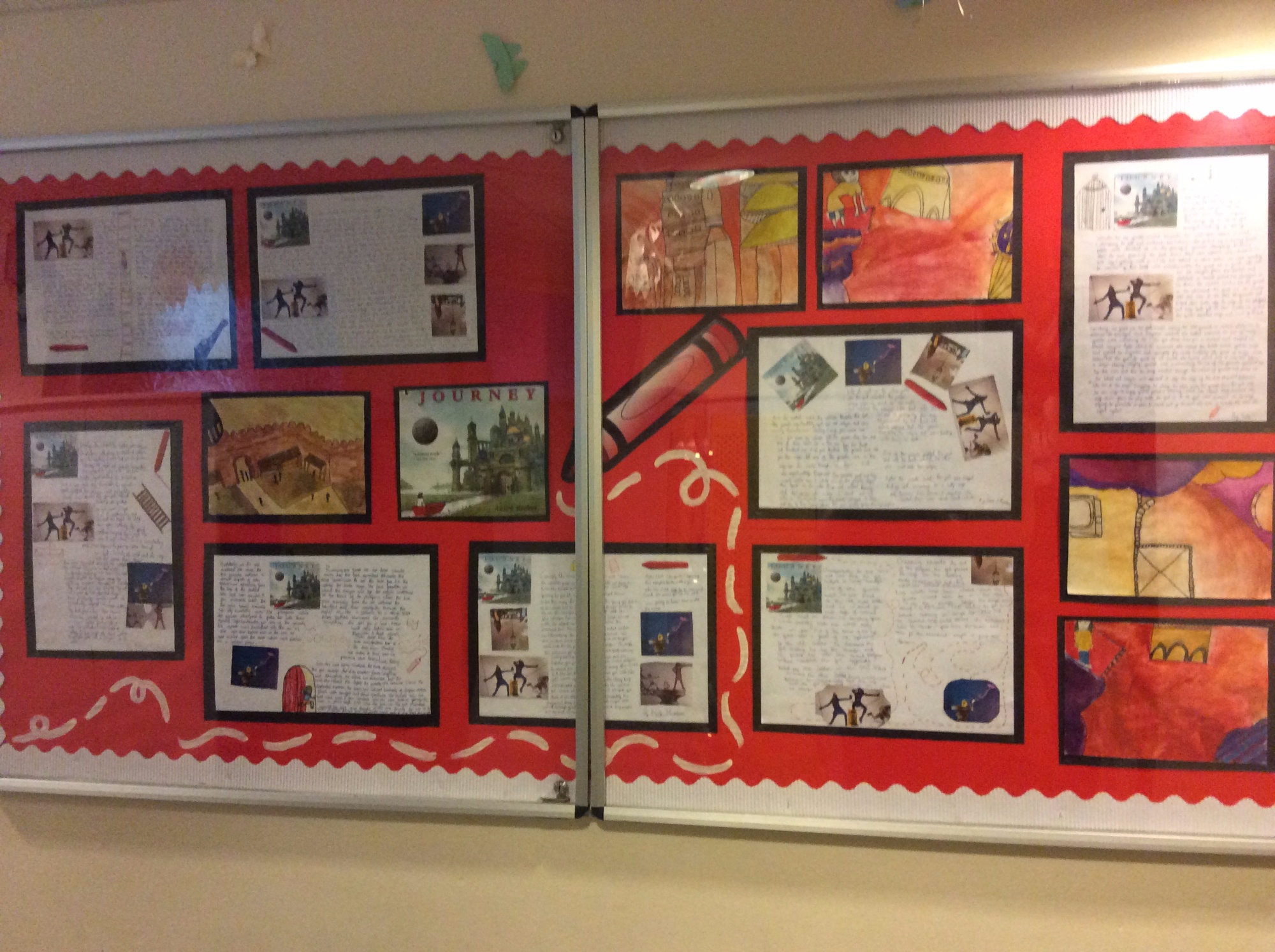 As you can see, our end of the school is looking magnificent! The walkway is looking amazing, too, with Y5's hot air balloons and our stained-glass birds taking centre stage. We enjoyed walking around and admiring all of our hard work - Miss Reeves even got a smile out of us!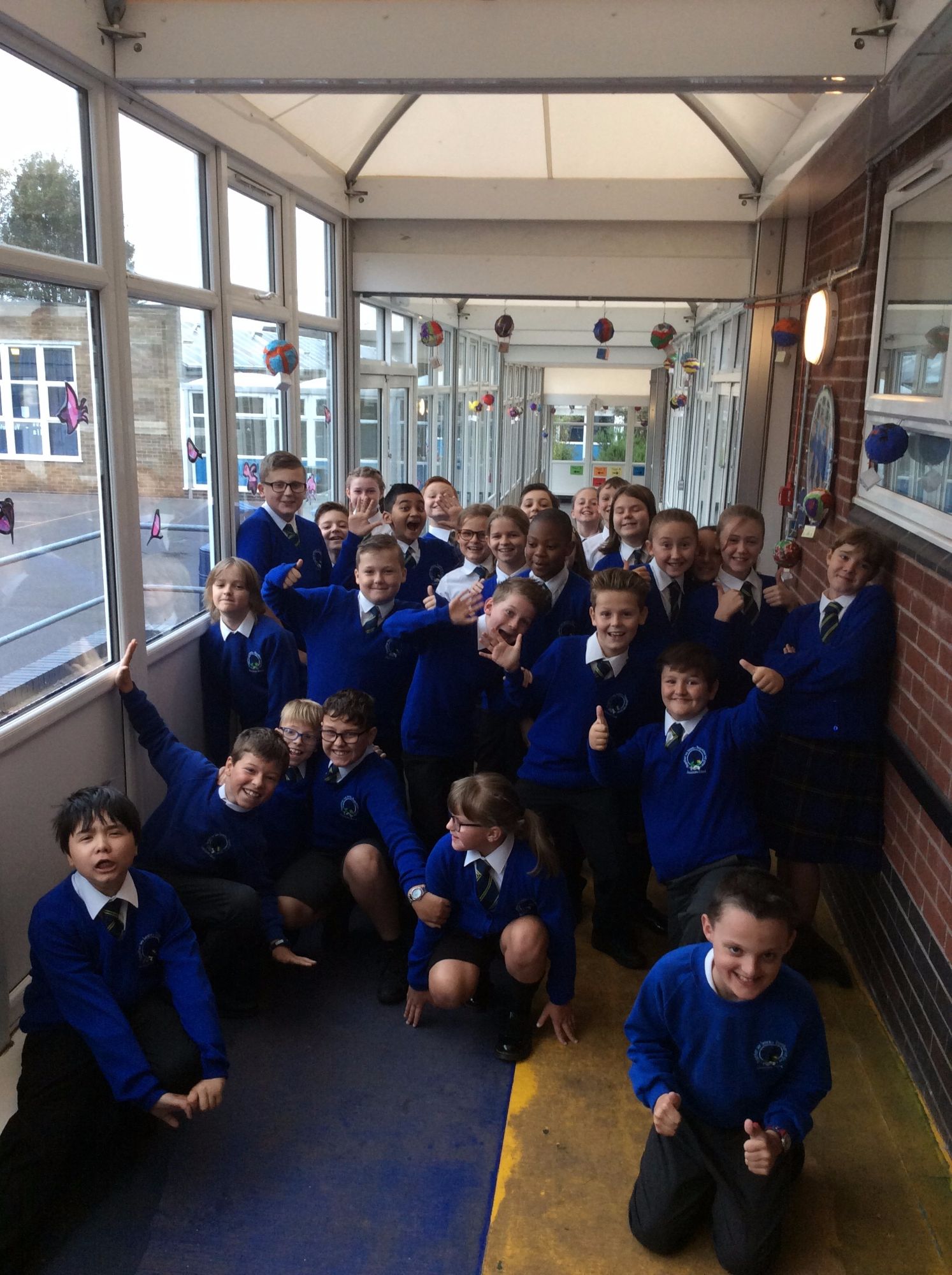 We really enjoyed our work, and especially enjoyed our special morning celebrating our writing on the Friday. Luckily, the staff have some more opportunities just like this one planned for the rest of the year.
Well done, Year 6.
---
7/9/17
Hi everyone and welcome back! Where did the six weeks go? Luckily, 6R(!!) have come back their usual chirpy, happy selves and are ready for a big, important year! Our learning for the first few days back have been jam-packed and it suddenly feels like we have never been gone.
Please note, that this half-term 6R's P.E days are Thursday with Miss Reeves and Friday with Mrs Moores.
R.E will be taken by Mrs Spooner on a Friday afternoon.
Year 6 will take part in Forest Schools in the half-term before Christmas.
Homework days are to be decided.
The current Year 6 timetable is available for download at the bottom of the page.
Much of our learning for the first two weeks of term are focused on a wordless picture book, "Journey" by Aaron Becker. We have made predictions and are beginning to retell the story through story maps and actions in preparation for some writing from next week. Next Friday, we look forward to showcasing our amazing writing, as well as some artwork and DT, in a writing showcase to the rest of the school. Keep your eyes peeled for pictures of the event!

I will just take the opportunity now to bring your attention to the home-school agreement, sent out today, for your consideration. Please have yourself and your child sign under the relevant sections and return to school. There have also been the annual information sheet update letter that went out on Wednesday.
Next Tuesday is our "Meet the Teacher" evenings. Please bear in mind that, despite most of us having met already, the Y6 presentation will detail information about your child's education this academic year, and will also be an opportunity to gain information out next half term's residential trip to Condover Hall. Year 6's session will be at 5:30pm.
Please remember that if you have any queries, I am available each afternoon on the school gate.
Miss Reeves.
---
Important Information
Here, we will post important dates and information.
Tuesday 12th September - Meet the Teacher evenings. First session (non-year 6) 5.00pm-5:30pm. Second session (including year 6) 5:30pm.
Monday 30th October - Friday 3rd November - Condover Hall residential trip.
Mondays from 6/11/17 - Forest Schools (until the Christmas holiday)

---
Useful Links for Year Six
Please let me know if you discover another great one!
BBC Bitesize KS2 - English, Maths and Science videos, games and more.
Spelling Frame - A simple website for practising the Year 3/4 and 5/6 spelling lists.
Espresso Learning - A site school has bought into; see your teacher for your login.
Compare4Kids - Some free activities, including Year 6 SATs 'online boot camps'.
Sumdog - Online maths games. Please see your teacher for your login.
Parkfields Links - Links to a raft of helpful sites for revision.
iXL Maths - a subscription site, with limited free activities. Great for focusing on specific maths skills.
Clarity Maths - A site with links to old style Key Stage 2 Maths Papers, Maths Tutorials as well as Maths Games. Some of these games are linked to Memory and would therefore help pupils to retain key information.
Mad4Maths - Click on "For Kids" to access some fun games to practise speed of recall of times tables.
Crickweb - A range of English games and activities.
KS2 Literacy - Activities to reinforce and practise a range of spelling rules.
Spellzone - A range of activities and games to practise a range of spelling rules and patterns.
For printable resources, please access our Parent Secure area for Year Six. Click the Parent News tab at the top of the page. This will give you access to TT38 (times table) resources, arithmetic/reading/grammar test resources and more, that we can only offer to parents if uploaded in a password protected area. If you have lost yours, please see someone in school for the username and password.