Year 3
Welcome to Year 3
Learning from Home
We are extremely proud of the way our pupils have risen to the challenge of learning at home. Our pupils are still applying our school values of 'Respect, Love, Enjoyment, Aspiration, Collaboration and Courage, despite these challenging times. We love the regular updates about how you are getting on at home and it is very encouraging to see the wonderful work you are still producing. Please remember we are still here to support you and help in any way we can. We miss everyone greatly and can't wait to see you all again soon. In the meantime we have created a showcase of some of the fantastic work sent to us. Please take a look.
Mrs Hill, Mrs Gee and Miss Quimby
As detailed in the 'Home Learning Procedure' sent out on Friday 20th March, children will be able to access daily school work from the 'Pupil Secure Area' within the 'Pupil Zone' tab above. Please refer to the leaflet provided for access to this area (username and password). To contact your class teacher during this period of Home Learning, you can use the following email addresses:
3GQ@leasowes.staffs.sch.uk for Miss Quimby and Mrs Gee
3CH@leasowes.staffs.sch.uk for Mrs Hill
We thought this would also be a useful time and place to provide you with websites that we as professionals use in school to support your child's learning. Many of these websites are offering free subscriptions to parents at the moment.
Twinkl
Step 1: Go to www.twinkl.co.uk/offer
Step 2: Enter the code CVDTWINKLHELPS to sign up for free.
My Mini Maths
Completely free to use and have produced multiple 'Home School Learning Packs' for different year groups in KS2. The Mini-Maths section also allows quick warm ups where you can practise the same concept for 5 days in a row. They also have something called TT38 (times table challenge) based around the premise that when you remove the easier times tables they call the basics, there are 38 core facts to know. Children practise these core and basic facts, alongside the related division facts in a rotation of ten days. Find more information here... https://myminimaths.co.uk/tt38-times-tables-skill-builder/
White Rose Maths
https://whiterosemaths.com/homelearning/
This is a resource we use frequently in schools to support children with reasoning and problem solving. The team at White Rose are currently working at putting Home Learning packs together.
Times Table Rockstars
Children continue to be able to use this as part of our whole school subscription to practise daily times tables. If you click on the NumBotslogo within TTRockstars, children are now also able to use this feature to practise arithmetic.
Once Upon a Picture, The Literacy Shed, Pobble 365
https://www.onceuponapicture.co.uk/
https://www.literacyshed.com/home.html
These websites are packed full of fantastic stimuli for writing, from pictures to video clips. There are often teaching suggestions to help, story starters and questions to ask.
Reading Cloud
Children can also continue to use the whole school subscription to the Reading Cloud by using their individual barcodes in their Home School Records. There are some ebooks that they can access to read from home. They can also search for books and write their own reviews.
Espresso and Education City
https://www.discoveryeducation.co.uk/
https://www.educationcity.com/
Children can also continue to use Espresso and Education City as part of our whole school subscription. They have passwords for these within their Home School Records. Here, they can also watch clips, complete actitivites and play games for a varying range of foundation subjects too like history, geography and languages as well as the core subjects. Espresso is a great website for science.
Thanks for your continued support,
Miss Quimby, Mrs Gee and Mrs Hill
---
Friday 13th March
Despite the date, today was definitely not unlucky for Year 3. Love was in the air as we took part in a 'mock wedding' as part of our learning in RE. Berkswich Methodist Church kindly agreed to host and conduct our wedding ceremony. The children looked fabulous in their best wedding outfits and our bride and groom rose to the occasion, showing all of our school values as they represented Leasowes. As part of the ceremony, we also had readings and prayers from pupils. After the ceremony, we showered the bride and groom with confetti before enjoying refreshments at the wedding reception.
Photos to follow due to a technical issue.
Wolseley Wildlife Centre Visit
On Monday 2nd March we took our learning into the community and visited Wolseley Wildlife Centre to take part in a river study. The weather was kind to us thankfully and we had a great time pond dipping, creating field sketches of the River Trent. We also learned about the features and speed of a river (velocity). The children were a credit to Leasowes and were complimented all day by the staff at the centre for their impeccable behaviour.
Photos to follow.
February
Year Three have been busy learning about water through our Topic for this Term; Water Water Everywhere! From its use as a valuable resource to all its varied forms and features from rivers, streams, waterfalls, lakes, coastlines, oceans, seas and reservoirs, we are discovering that water truly is everywhere!
After Half Term, we will be holding our Family Learning Afternoon, where we will be creating models of the water cycle together! More details to follow very soon!
Thank you for all the wonderful watery- coloured fabrics, buttons and ribbons you have been sending in for our Art lessons. The children have enjoyed working collaboratively this week to create fantastic collages using layering and overlapping techniques. We could still do with a few more Art overalls to protect school uniform so if you do have any old, unwanted adult size t-shirts, tops or shirts, please do send them in. Lots of the children do already have one in a bag in their lockers but a few more would really help us out for those messier, creative sessions!
In Geography throughout the school, we are using the acronym HOTCLUB, which helps the children explore different parts of the world using seven key headings; Hemisphere, Other Places (Where is it in relation to other places?), Time Zone, Climate, Latitude, Us (Where is it in relation to us?) and Bodies of Water (Which bodies of water are nearby?). Our children love remembering and using the key words and have been fascinated by different time zones and how it can be day in one place yet night in another at the same time!
Wolseley Wildlife Centre Visit
You will be receiving a letter this evening (6.2.20) about our upcoming Y3 visit to Wolseley Wildlife Centre for a River Studies Day, as part of our Water, Water Everywhere Topic. This has been booked for Monday 2nd March. The deadline for contributions to the SchoolMoney site and the return of your child's consent slip is Friday 14th February please.
December
As the term ends, we would like to wish you all a Merry Christmas and a Happy New Year.
We have reached the end of an exciting first term in Key Stage 2. We have thoroughly enjoyed learning about the Stone Age. Our text,'The Boy with the Bronze Axe', has really captured our imagination and helped us learn about everyday life in Skara Brae, a real Stone Age village in the Orkney Islands. It has also inspired some wonderful written work.
In Design and Technology our focus has been Cooking and Nutrition. We enjoyed tasting a range of breads as well as making our own tasty rolls. Please see below for a copy of the recipe we used, in case you would like to try this at home.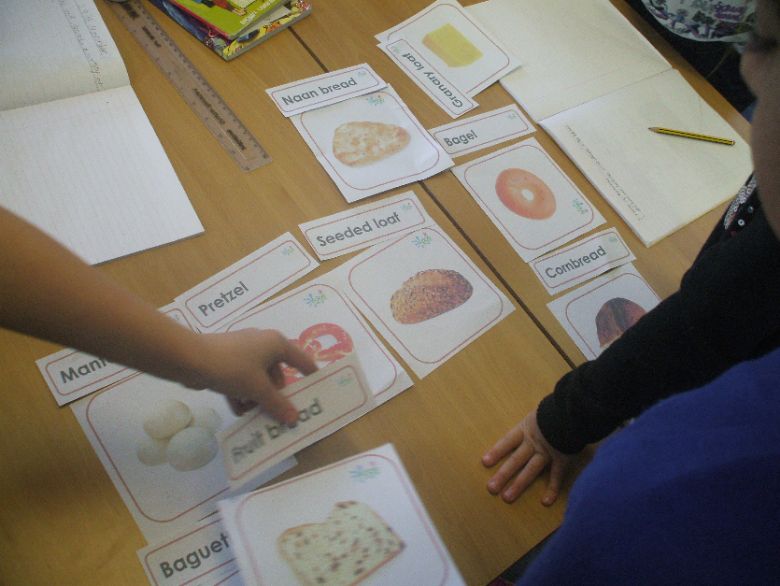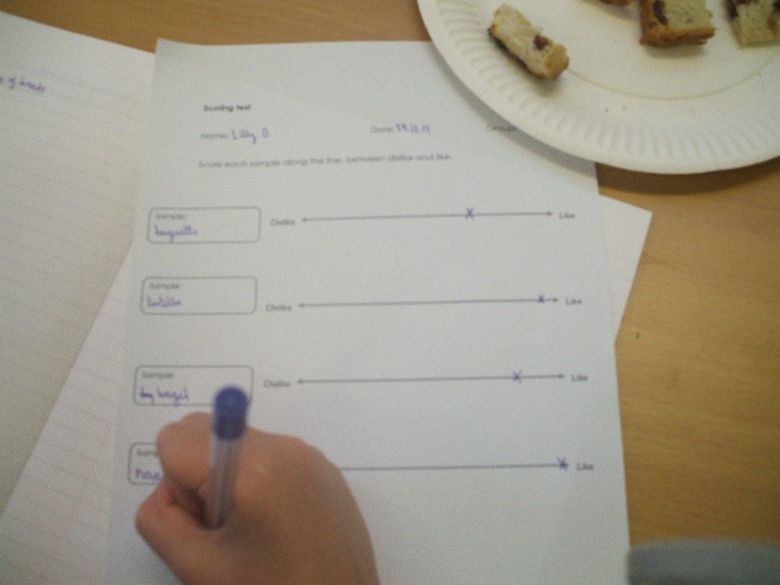 ​
​
​
​
WOW! What an exciting week we had last week!
We all thoroughly enjoyed our visit from Timezones who took us back to the Stone Age for a day. We dressed up as Stone Age people, made felt from sheep fleece, learnt how to hunt wild boar and learnt about the different textiles available and why they were so important. Timezones also allowed us to explore and hold artefacts that were hundreds of years old! We looked at bones, antlers and flints and even tried using tools that they would have done all those years ago.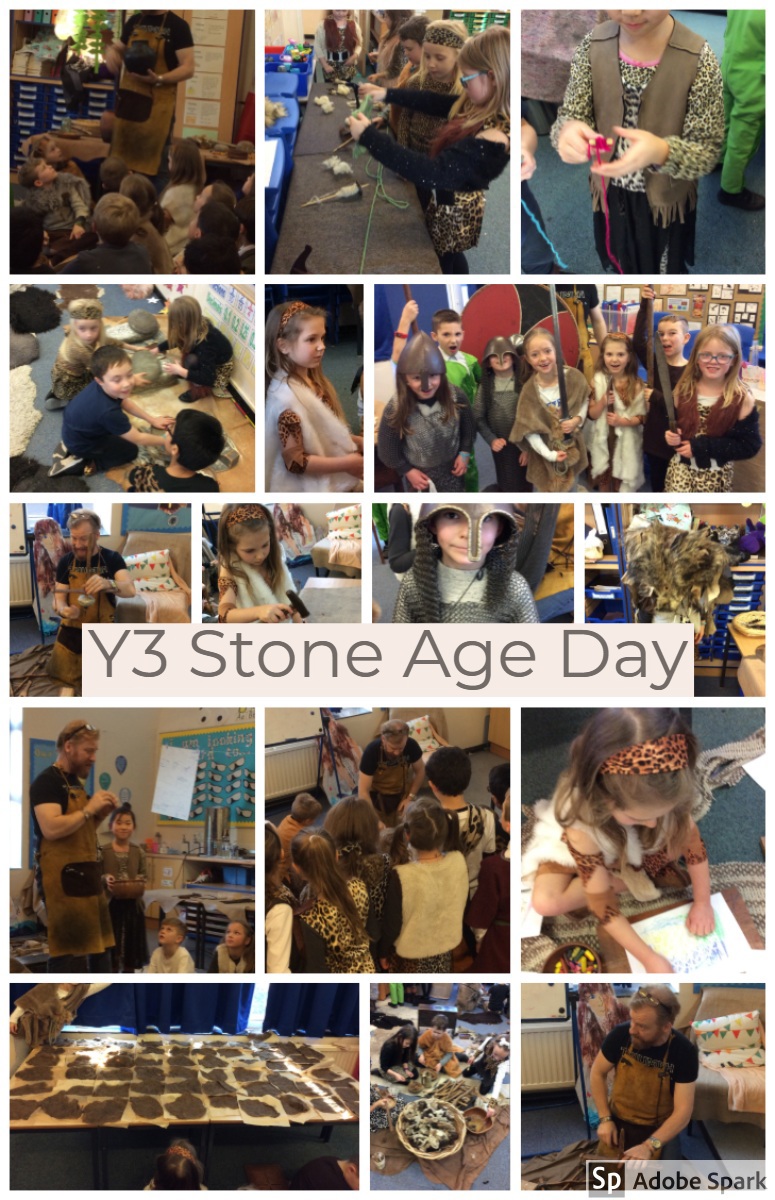 November
This half term, we have started work on a new English text called The Boy with the Bronze Axe by Kathleen Fidler, set in the Stone Age settlement of Skara Brae. The children have already written setting and character descriptions and are looking forward to writing their own chapters for the story. This week we are learning to punctuate direct speech with inverted commas so that we can add speech to our story writing.
We have also been learning to paint in the style of cave art from Stone Age times and the children have loved using different medium from pastels to ink to charcoal.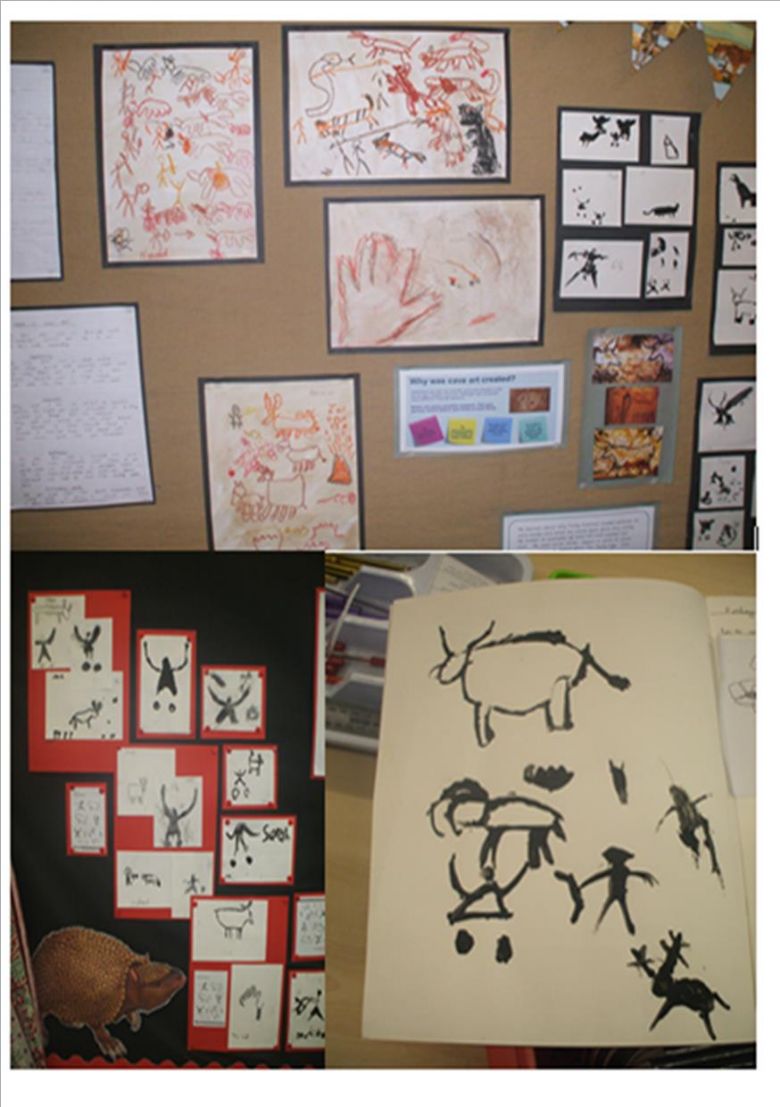 Important Information:
Spellings will be given out on a Monday and tested on the following Monday.
Reading records will be checked and signed on a weekly basis, children can swap their reading books on a daily basis also if they wish.
Homework will be given out on a Wednesday and will be due in on the following Monday. Homework will alternate between Maths and English each week.
PE lessons will take place on MONDAY afternoon. Please can all children bring a named PE kit and suitable footwear. This should be both an indoor and outdoor kit that will stay in their locker at all times.
As the colder weather approaches please can children bring coats as it can become a little chilly at playtime and lunchtime.
Thank you for your support.
Miss Quimby, Mrs Gee & Mrs Hill :)
***********************PLEASE NOTE***********************
Year 3 will be swimming in the new year. Please look out for a letter, giving further details when we return after Christmas.
Important Dates
Thursday 19th December - BREAK UP
Friday 20th December - INSET
Monday 6th January -INSET
Tuesday 7th January - Term Begins
Wednesday 12th and Thursday 13th February - Parents' Evening
Monday 17th - Friday 21st February - SCHOOL CLOSED Half Term
---